With 314 days of sunshine annually in our region, the Grande Prairie region makes an excellent year-round destination to enjoy the great outdoors. To complement the many days of sunny weather, our city and the surrounding area are bursting with outside activities for people of all interests and skill levels.
Check out our 20 recommendations for getting outside in our region this summer, sorted by light, moderate, and intense activity levels below!
Light Activities


1. Teepee Creek Stampede
Ready for 4 days in the wild? This local rodeo event draws international talent and has been kicking for over 100 years – the spirit of the Grande Prairie region comes to life at Teepee Creek Stampede. Check on their website for restriction and ticket updates! 
2. Downtown Street Buskers
Every Friday and Saturday in the downtown core, you can look forward to free live outdoor entertainment. The talent ranges from singers to dancers to craft entertainment, so grab some grub to go from one of our downtown restaurants and wander our city centre streets for an upbeat summer afternoon. 
3. Take a bird-watching stroll around Crystal Lake
Grande Prairie is home to many walking trails and parks, but one stand-out is the 4km Crystal Lake boardwalk loop. You'd never know you're in the middle of the city while taking a stroll around the lake with the variety of water fauna that call the area home – watch for geese, coots, and of course our city's emblematic trumpeter swan.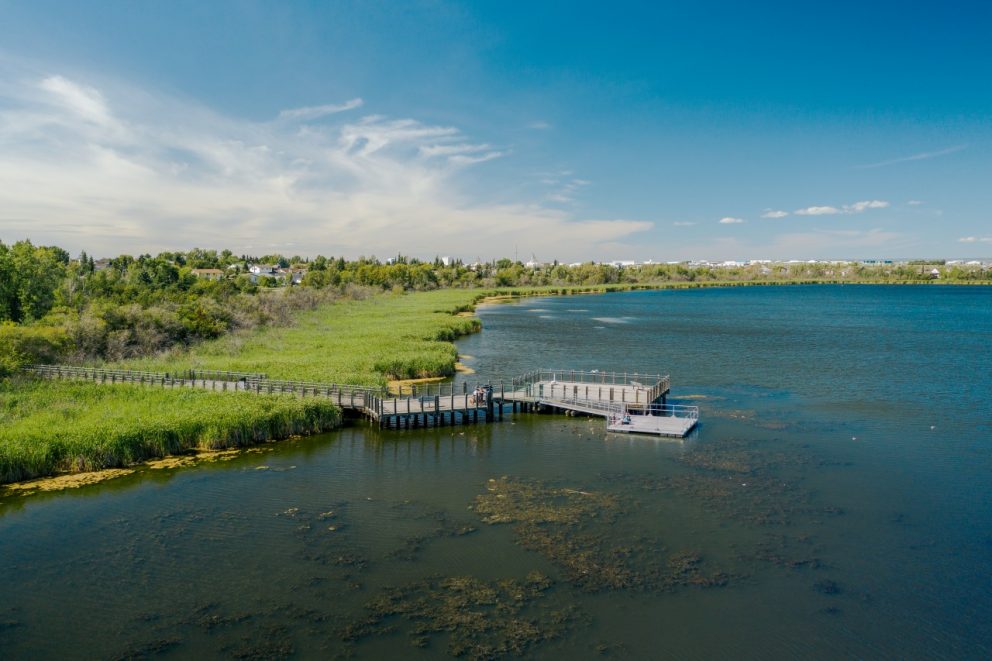 4. Picnic at Grande Prairie's largest park: Muskoseepi
Pack up your own homemade picnic, or grab some delicious hand-helds from one of our city's many food trucks and head down to Muskoseepi Park for a relaxing afternoon. Want to take it up a notch? The park is home to many sports, including lawn bowling, mini golf, spikeball, even fishing – more information here! 
5. Plan a wine tasting and berry picking tour at Broken Tine Orchard
Tucked away near the hamlet of Elmworth, Broken Tine Orchard is one of our region's most unique tourism destinations. Go for the haskap berry picking, stay for the wine tasting! (Psst – the kids will love the new ice cream truck on-site this summer featuring berry popsicles and other frozen treats.) 
6. BBQ it up at Red Rock
BBQ is the ultimate ode to summertime. And isn't it even better if you can sit back and enjoy it while someone else prepares it for you? We recommend checking out the sunny patio at one of our local barbecue eateries, Red Rock Urban BBQ, for some of the best authentic smoked meat around!

7. Farmers' Market
Beginning July 14th, you can now visit the Grande Prairie Farmers' Market on Wednesday afternoons in addition to their year-round Friday and Saturday times. Whether you're in the market (pun intended!) for locally-grown veggies, artisanal gifts, or what some consider to be GP's best fish tacos, a trip to the Farmers' Market is a must!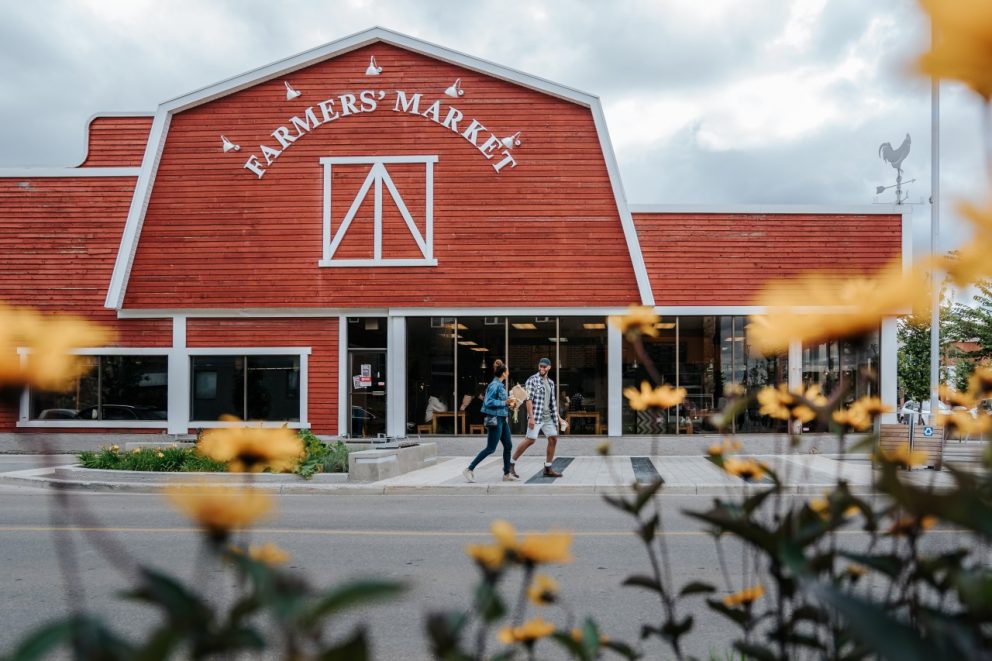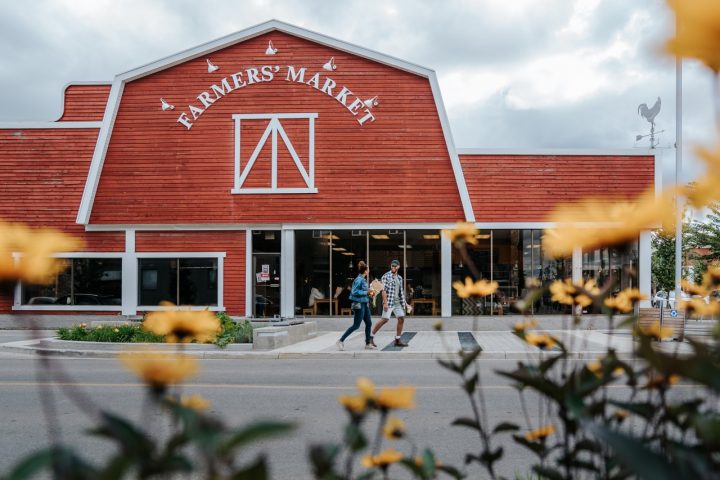 MODERATE
ACTIVITiES

8. Go kayaking with Breathe Outdoor Adventures
Newly opened Breathe Outdoor Adventures is your key to spending a warm afternoon cooling off on the water. Their rental options are catered to you – the company rents out kayaks for the day, offers private group bookings, and more.
9. Head out on a Dinosaur Discovery Tour
The Philip J. Currie Dinosaur Museum recently re-opened its door to the public, and their dinosaur discovery tours are once again open for booking. Take a guided 2.5km trek along Pipestone Creek while learning about new palaeontology discoveries happening in the Peace Region. The cost is $7 per person – you can book here.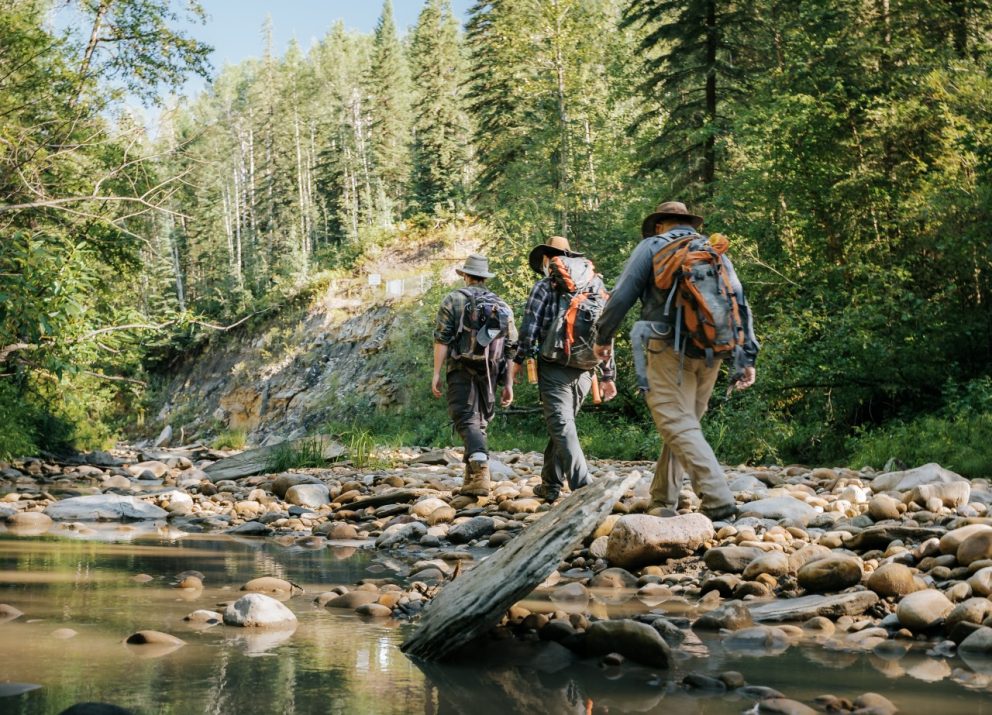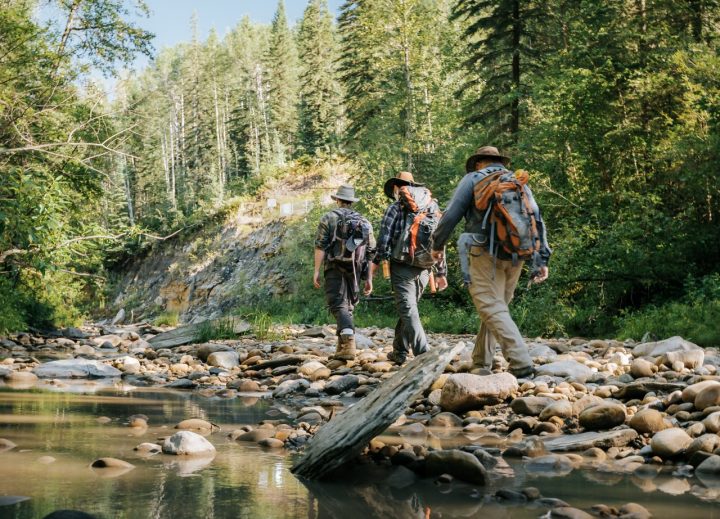 10. Disc golf at newly opened Evergreen Park
course
GP's third public disc golf (aka frisbee golf!) course has opened at Evergreen Park this year. The course will be home to the Provincial Disc Golf Championships in mid-August, but until then, visitors are welcome to use the course free of charge. BYOD (bring your own disc!).
(PS our city's other disc golf courses were featured in our Top Things to do this Spring blog here!)
11. Hit the links (and the beach!) at River Stone Golf Course
River Stone Golf Course is one of our area's newest golf courses, but has quickly established itself as a uniquely challenging and beautiful course along the banks of the Smoky River. The views (and clubhouse caesars) can't be beat! For more golf courses to explore in our region, visit: Grande Prairie & Region Golf Courses.  
12.
Book the Bear Creek Outdoor Pool
Grande Prairie's only outdoor pool, Bear Creek is a popular spot in the summer months. Due to ongoing gathering restrictions, the pool is currently accepting bookings for groups up to 40 people (as of July 1, 2021), but keep an eye on their website for changes to booking and capacity.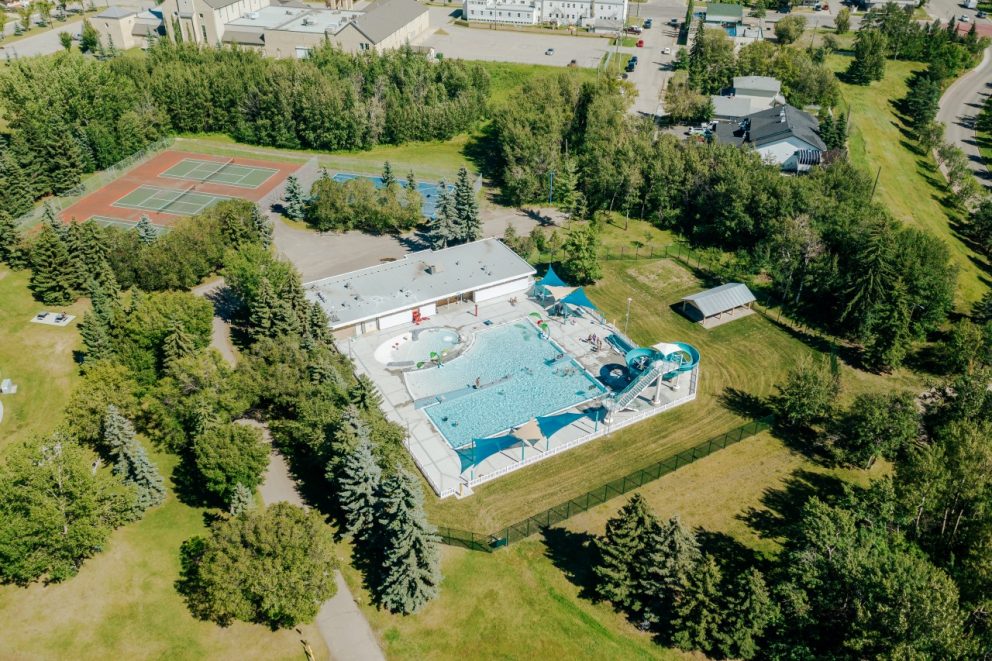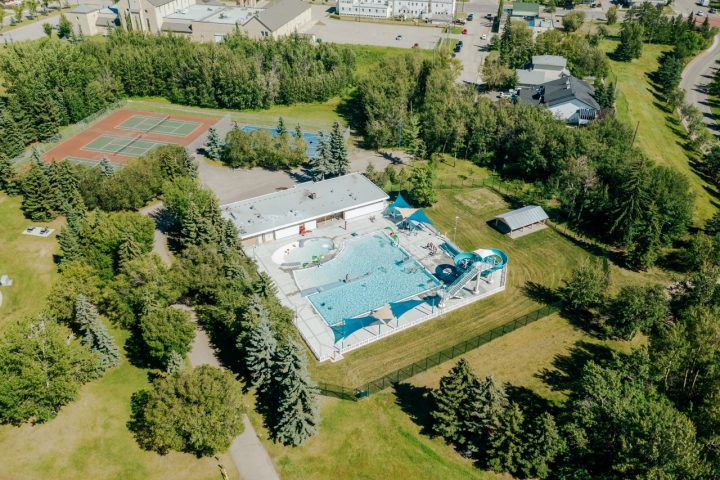 13. Go Fishing
Whether you're a beginner or a pro angler, fishing is an excellent excuse to get outside and enjoy the great outdoors. Moonshine Lake in Saddle Hills is a popular spot to catch trout, while Snipe Lake and Sturgeon Lake east of the city provide endless hours of perch and northern pike fishing.


INTENSE ACTIVITIES

14. Horseback riding tours near Fairview
Horsetrekking Adventures is your guide to our exploring our region via horseback! Located north of Grande Prairie in the beautiful boreal forest, opt for half-day, full-day, or multi-day tours with your experience guides.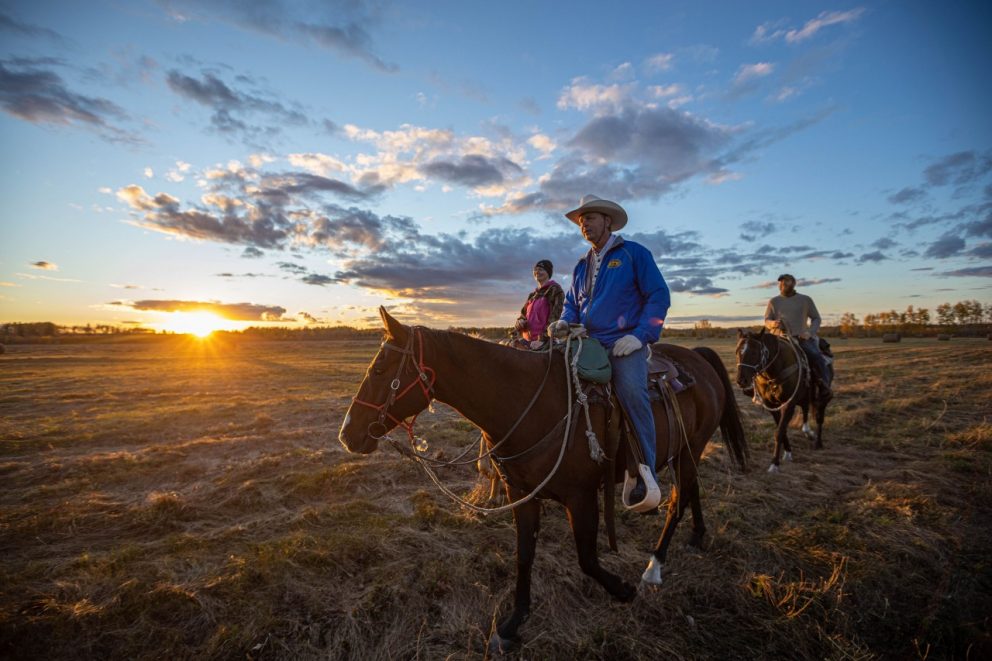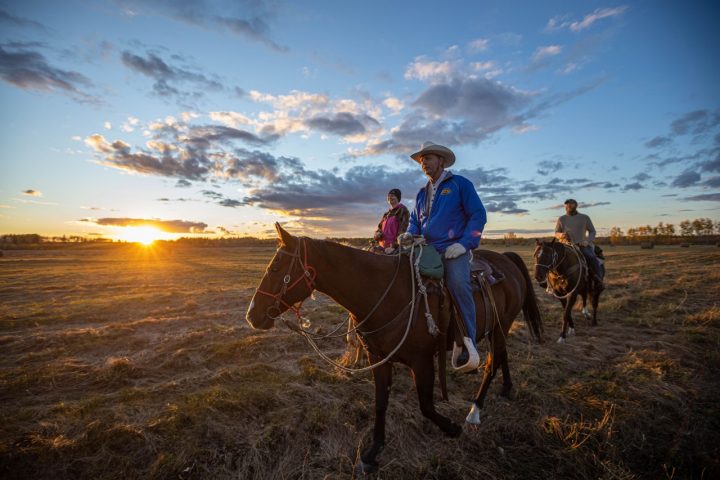 15. Wild Blue Yonder White-water rafting Grande Cache
Wild Blue Yonder would have you gripping the edge of your (raft) seat, but you'll be too busy paddling along the Sulphur River and taking in the stunning mountain views to even have time to be afraid. Their summer weekend tours book fast, so don't wait!
(PS if you're looking to make a day out of it, visit our Outdoor Adventurer Grande Plan for the perfect Grande Cache itinerary!)
16. Go to a car race at NPBRA
The adrenaline-pumping sights and sounds at the NAPA Auto Parts Raceway in Beaverlodge make for a unique daytrip out of the city. Check their drag racing events summer chedule here: NPBRA Event Schedule. 
17. Challenge yourself to the Passport to the Peaks hikes
This hiking challenge isn't for the faint of heart: the Passport to the Peaks program guides you up several of Grande Cache's stunning mountain peaks for unparalleled panoramic views of the Rockies. Check out the program and where to pick up the passport here.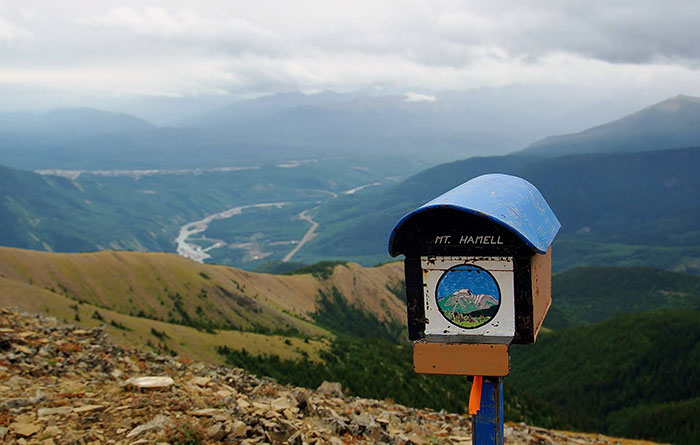 18. Run the trails at Nitehawk or Wapiti Nordic
These two designated trail networks are maintained year-round, and offer drop-in visitor passes for a very affordable price. Escape the urban buzz for a few hours and hit Nitehawk or Wapiti Nordic for a high-intensity run, walk, or hike (with Wapiti Nordic open to cyclists, as well).  
19. Hit the open road for a motorcycle cruise
With endless highway driving in nearly every direction, the Grande Prairie region is a paradise for motorcycle enthusiasts ready to explore on two wheels. Don't have a bike of your own? No problem. Top Gear Cycles was recently featured in our Rentals blog with a fleet of 12 motorcycles available for half, full, or multi-day rentals.
20. Rent a SHERP for the day
SHERP all-terrain vehicles were practically made for our region – tackle water, rocks, trees, beach, snow, and of course… mud! Local company Shredded Peak rents these beasts year-round for a unique adventure you won't soon forget.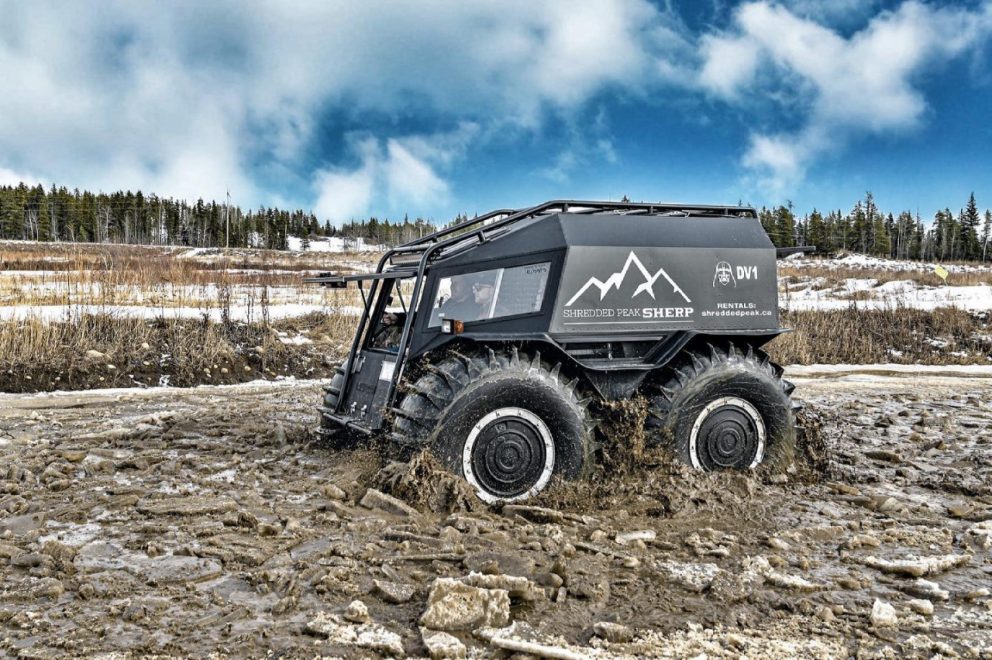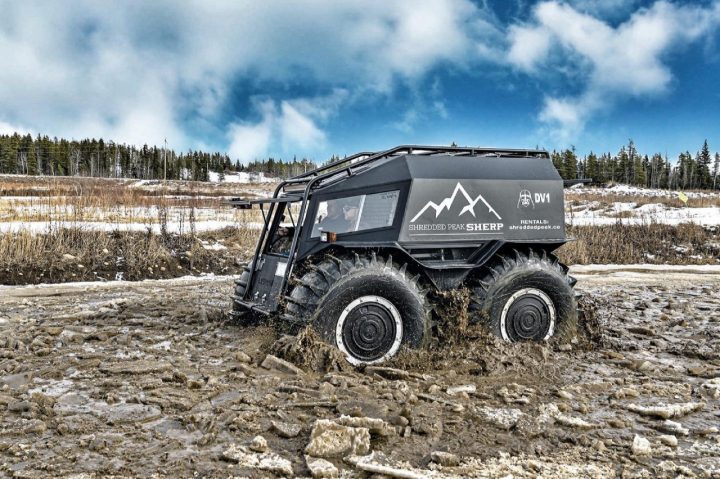 We hope this list stoked the adventurer in you and that you're already planning how to make the most of our beautiful summer season. Remember, if you're looking for gear and equipment to get you started, or even an RV to rent while you're touring around, be sure to check out our Rentals blog for a detailed list of retailers.