When it comes to chilly winter weather, we get it – the temptation to stay inside, curl up on the couch, and turn on the TV is hard to resist. With that said…if you want to have a great date and an amazing story to tell, it's definitely worth resisting! If you're wondering what couples can do in the Grande Prairie region this winter, here are some of the best spots in and around the city for a winter date (that's winter-great) with your significant other.
Take in a show with Grande Prairie Live Theatre
GPLT features productions all through the year, with shows ranging from classic plays like Fiddler on the Roof to productions written by local playwrights. They've even been known to host musical guests like The Arrogant Worms. Though the weather outside may be frightful, as the saying goes, it's always delightful inside any of the GPLT's multiple venue, with both the atmosphere and the temperature being warm and welcoming. It's perfect for an entertaining evening indoors, enjoying the thrills of a live performance with your loved one.
Website: https://gplt.ca/
Phone Number: 780-538-1616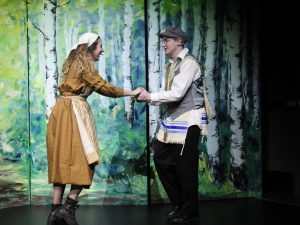 Keep it classic (& classy) with dinner and drinks
Sometimes there's no beating a tried-and-true date night staple: a classy dinner with a few drinks in a favourite restaurant. Grande Prairie has no shortage of great dining, whether it's that place on the corner that you've been to a million times where you can order "the usual," or somewhere new to add in to your list of perfect date spots. To chase away the cold of the winter, how about dinner at Mr. Mike's Steakhouse or Red Rock Urban BBQ, the pub atmosphere at The Lions Den Pub and Carvery, or the friendly ambiance of Better Than Fred's? Wherever you two decide to go, Grande Prairie's dining scene will fit whatever you're in the mood for.
Mr. Mike's Steakhouse Casual
Website: https://mrmikes.ca/locations/grande-prairie-ab/
Phone Number: 780-538-9378
Red Rock Urban BBQ
Website: https://www.redrockurbanbbq.com/
Phone Number: 780-402-7431
The Lions Den Pub and Carvery
Website: https://www.thedenpub.ca/
Phone Number: 780-513-5511
Better Than Fred's
Website: https://www.betterthanfreds.ca/
Phone Number: 780-532-4450
Take a weekend getaway to Powder King
Is just one night out not enough for you and that special someone? Do you both enjoy a more active winter scene? Then look no further than a trip to the slopes at Powder King Mountain Resort! Located just under four hours away, Powder King is the perfect destination for you and your favourite person – you'll get a whole weekend to make fresh tracks together in the pristine deep powder of the Rocky Mountains. If you like, you can slow things down with snowshoeing or a cozy cabin stay at Azouetta Lake – after all, the picturesque landscapes are well worth a long, lingering look. Couples in a romantic mood won't be disappointed!
Website: https://www.powderking.com/
Phone Number: 1-866-POW-KING (1-866-769-5464)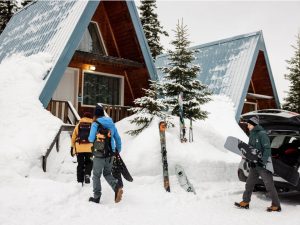 Skating at Muskoseepi Park
There are a few outdoor rinks available to skate at in Grande Prairie, but if you're going for the most romantic option, Muskoseepi Pond is our top pick. Located next to the Ernie Radbourne Pavillion in Muskoseepi Park near downtown, it's an amazing place to skate with that special someone in a natural setting. Plus, there's another bonus – the rink is lit each night until 10 PM, meaning you can skate late into the evening with the warm glow of the lights creating an undeniably romantic vibe.
To really, well, "sweeten" the deal, pick up a couple of cupcakes from OMG Cupcakes on 100 St before you hit the ice. They may not help you skate any better, but these delicious treats will hold you over until you're ready for a big meal together after the rink.
Website: https://www.cityofgp.com/parks-recreation/gyms-ice-fields/outdoor-rinks/muskoseepi-pond
Dog sledding at Evergreen Park
Feeling a little more adventurous than the usual dinner and drinks? Here's one that goes beyond the traditional date ideas: how about a dog sled ride? Elevation Sled Dogs maintains a world-class team of huskies ready to take you and your loved one on a totally unique sledding adventure at Evergreen Park. The team competes in races such as the world-famous Iditarod, but during their time off from the sledding circuit, they're ready to help you experience a date unlike any other, with the thrill of leading your own dog team across the snow. After your dog sled adventure is finished, you can enjoy a hot meal at the Wild Horse Casino & Lounge, featuring great food and live entertainment.
Elevation Sled Dogs
Website: https://elevationsleddogs.ca/
Phone Number: 780-832-3359
Wild Horse Casino & Lounge
Website: https://www.evergreenpark.ca/casino-restaurants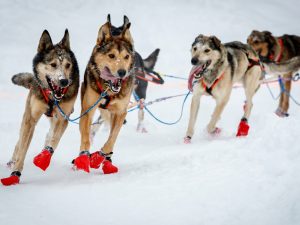 These options are just a small taste of what Grande Prairie and region has to offer you for your winter date night. There are many more great spots to choose from, and where's the fun in us telling you all about them? Even getting out there to explore can be a date in itself!
For year-round date ideas, check out our Date Night in Grande Prairie blog, or another roundup of fun destinations in Exploring Grande Prairie After Dark. Let us know on social media if we've missed any of your favourite winter date night spots – we'd love to hear from you!