Story and photos by Rumble Alberta partners Rheannon Green and Tannis Baker, Food Tourism Strategies Inc.
It is no secret that Alberta has a long history with meat and potatoes. With strong prairie roots, hearty meals play an important part in daily life to make sure that you have enough energy to get through the day. The Grande Prairie region is no different – lots of farmland, lots of hardworking ladies and gents looking for simple meals full of protein and energy. What you might not know is that the region has a bustling local food scene that may just be Alberta's best kept secret. Centered in Grande Prairie and reaching out to surrounding communities like Fairview and Watino, this region is transitioning into a food lovers paradise.
The key to this shift is the growing sense of community amongst both the businesses and the public. A growing sense of support and a heartfelt desire to work together to lift each other up is strong in the region. Whether they are lifelong locals or recent transplants, the community spirit is coming out in spades. You will see a lot of the same farms and producers popping up on various menus across the region, like Broken Tine Orchard out of Rio Grande that is building the market for haskap berries all across Alberta, and Grain Bin Brewing, who is highlighting the unique flavours of the north in their craft beers.
Inspired Local Eats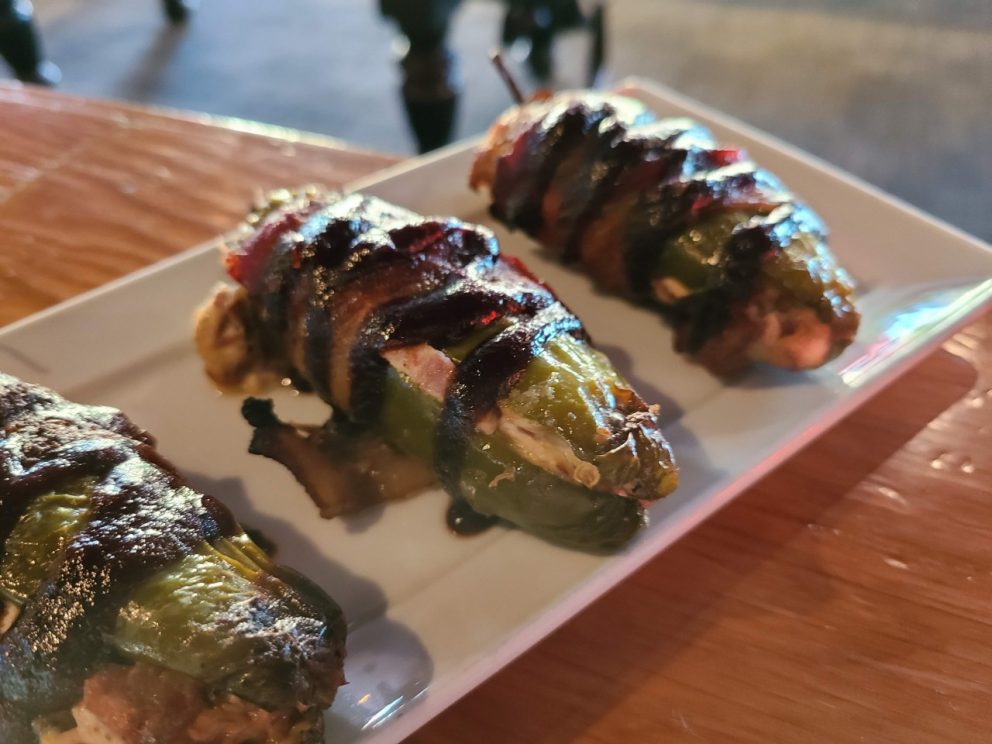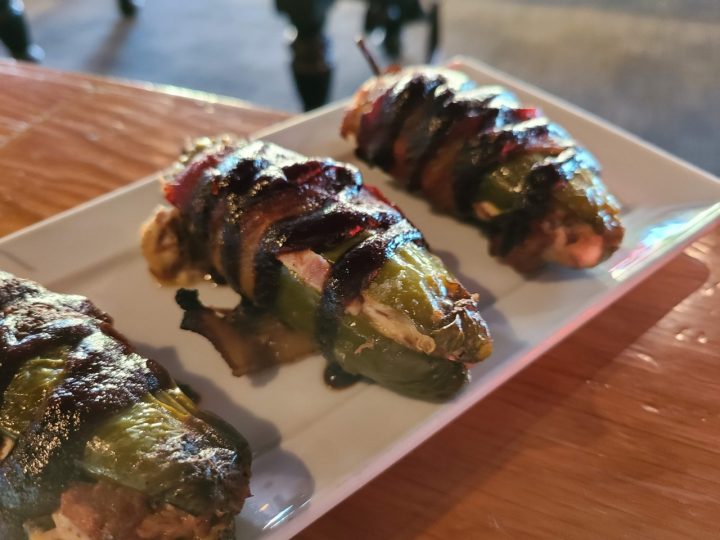 With Alberta leading the country in ranching and production of beef, pork and bison, you know there is going to be some great barbeque. Better Than Fred's brings authentic Tennessee BBQ to Grande Prairie. Finger licking, fall off the bone, delicious smoked meats with all the fixings. Add in some signature creations like the Jar-B-Que (basically an entire BBQ plate with sides but layered into a mason jar), the Texas Twinkies (cored jalapenos stuffed with brisket and cream cheese, wrapped in bacon, and smoked) and even an award-winning cucumber salad, and you have all you could ever want in a BBQ joint. Low and Slow is the motto here, with meats spending the better part of a day with a dry rub, then smoked slowly overnight to ensure they are perfect for the following night's dinner. The food is serious, but the atmosphere is fun and casual. They have some exceptional lighter fare and non-BBQ dishes so that it is a spot that everyone can enjoy (except the kids – this place is 18+). With an assortment of pool tables, VLTs, and PPV games, you can be sure to pass the time with lots of excitement, though the real thrill comes from the live bands. These are not just local names, but big acts like The Trews, Matthew Good, Serena Ryder, and Mother Mother have graced the stage, and the list continues to grow. With a capacity just shy of 400, it may be your best chance to get up close and personal with some of the industry's top artists.
Red Rock Urban BBQ is another favourite local spot that is always busy. The portions are great, the meat is cooked to perfection, and it has a great patio for gathering with friends. If you are not sure what to get, go for the "Oink, Cackle & Moo," it includes their pulled pork, quarter dixie chicken and sliced brisket plus two sides and cornbread. It is more than enough to feed at least two people, if not more.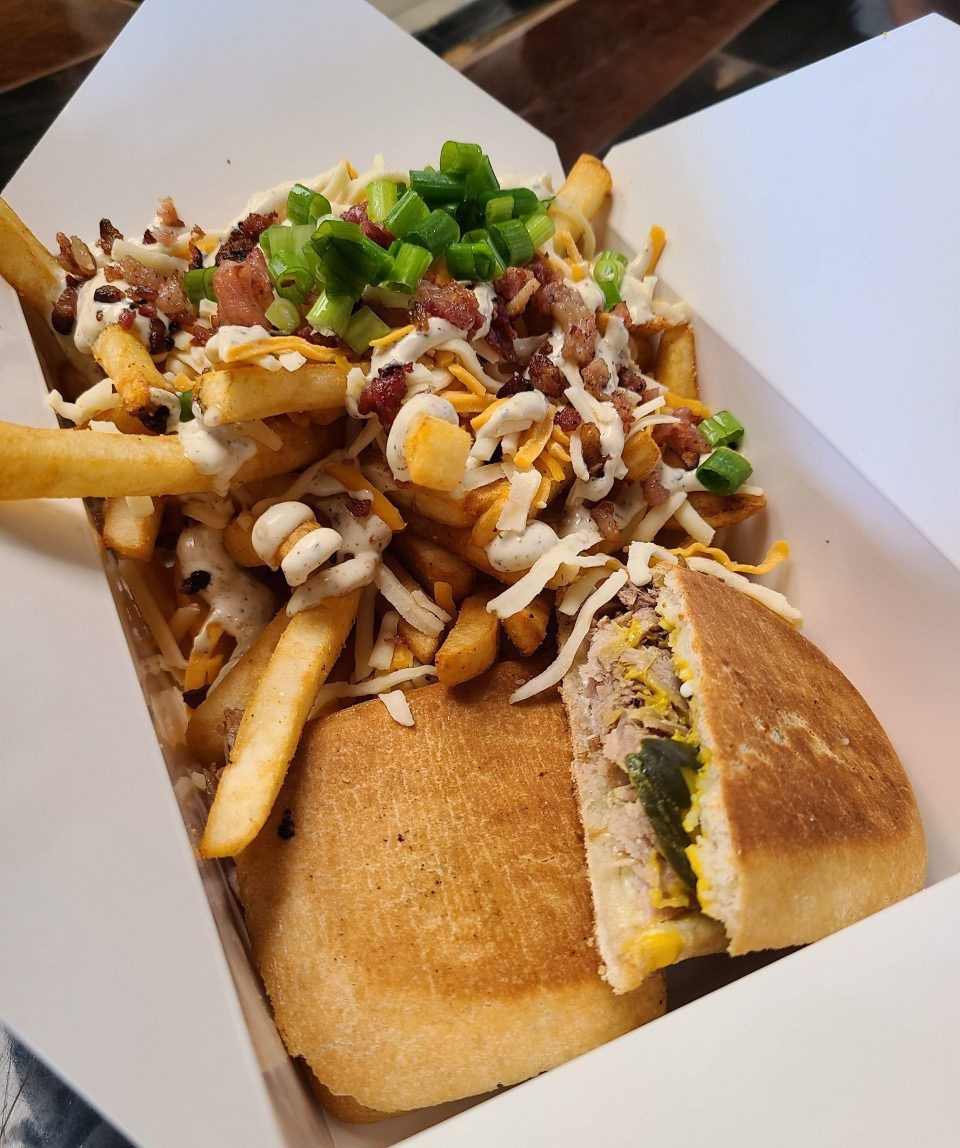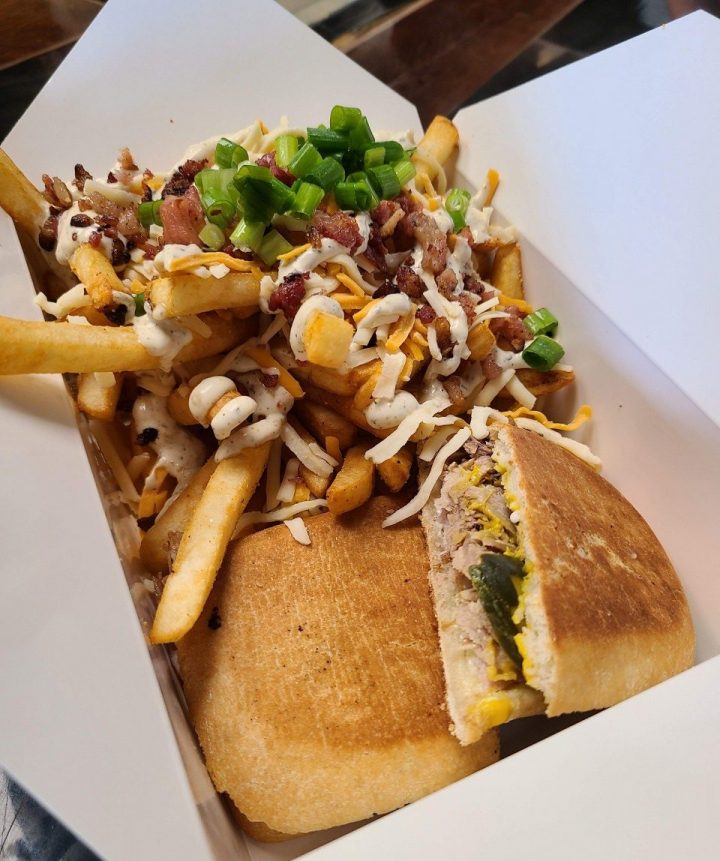 If you are searching for some great local spots to hit earlier in the day, head over to Fourteen Food Co., an amazing lunch and brunch spot that serves up simple, fast, and delicious sandwiches and more. They are huge proponents of local, working with nearby farms and producers whenever possible. The "Uncle Joey" is one of their most popular sandwiches, which is like a Cubano and pressed to perfection. Pair it with the "Loaded Fries," and you will be full for the rest of the day. Wash it down with a Grain Bin craft brew, or a Grizzly Paw soda, or with a coffee from local roasters at Mink Hollow Coffee. This might sound odd but be sure to check out their washrooms before you leave – they have some local artwork all over the walls adding to the fun and inviting environment.
If you are looking for something more contemporary, look no further than Jeffrey's Café Co., a 20-year veteran of the local food scene. They take local to heart, working with farms and producers from the area whenever they can, and supporting various community initiatives throughout the year. While they have multiple locations around the city, their flagship space boasts a relaxed space with an upscale twist, endless counters of featured desserts, and a carefully curated retail space that features unique artisanal goods. Their food can be described as homestyle bistro fare and has something for absolutely everyone (there is even a keto menu available). From the Smoked Maple Tea Latte to the Prairie Berry Sangria, their local flavours also extend to their beverage list. Need to beat the summer heat? Head over to their sister shop, The Scoop, for some from-scratch ice cream.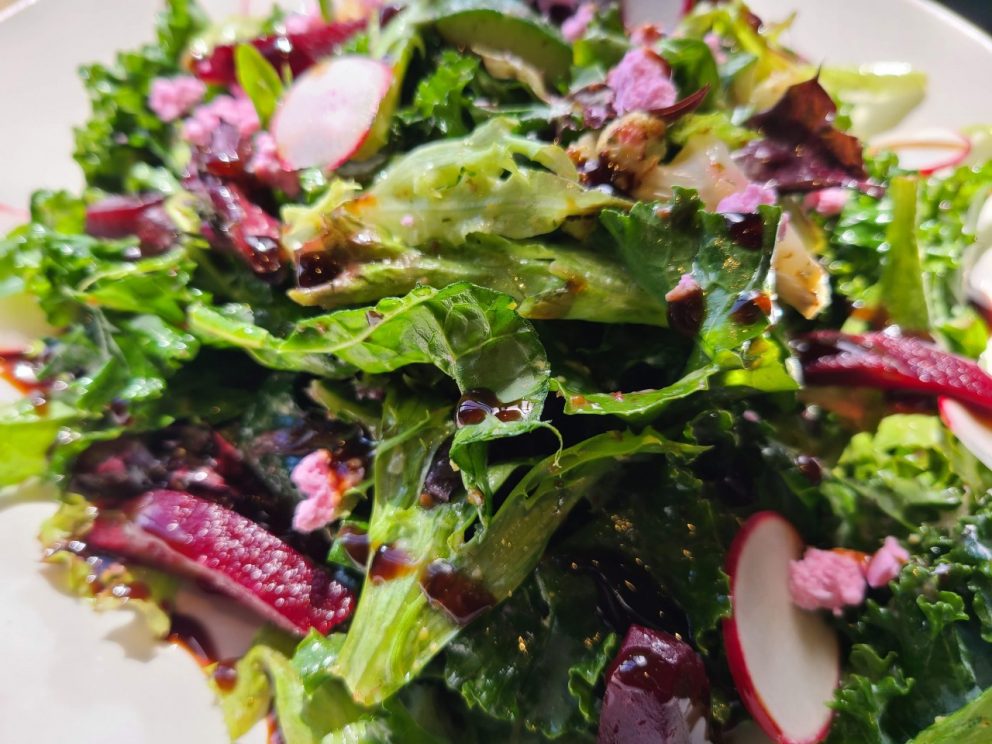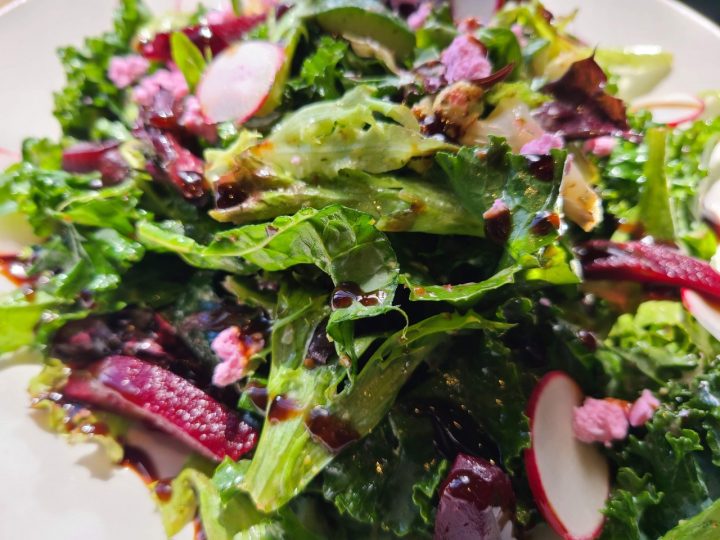 When it comes to supporting local, you would be hard pressed to find somewhere that does it better than Maddhatters. Restaurant by day, club vibe by night (precovid, of course), they can accommodate groups of all sizes in their upbeat, electric space. From Ridge Valley chicken to Broken Oak Distilling spirits, they are serving up some of the best local ingredients all day (and night) long. They even added a new online marketplace during the lockdowns to help local farms sell their products.
Grab a plate of their locally renowned wings or a Rangeland bison burger, pair it with their "We Are All Madd Here" signature cocktail, and you have all the makings of an exceptional dining experience. Don't forget to take a selfie with the namesake painting – you will wish you could take it home!
From Grain to Glass
The Grande Prairie region is becoming known for turning out some of the best craft beverages in all of Alberta. From spirits to fruit wines to brews to coffee, there is sure to be something to please every palate. Tours and tastings are available almost everywhere because they want you to find the perfect flavour profile for you, so that you love their products as much as they do.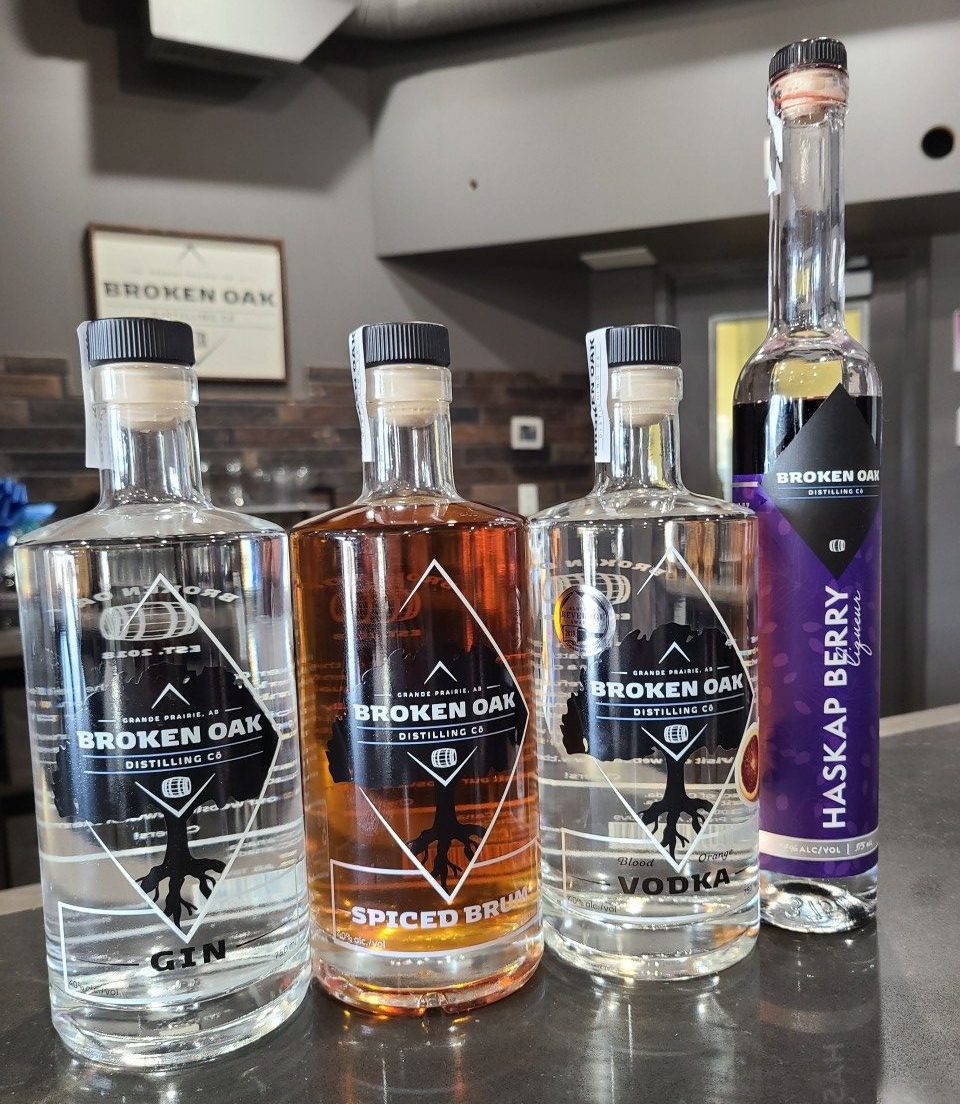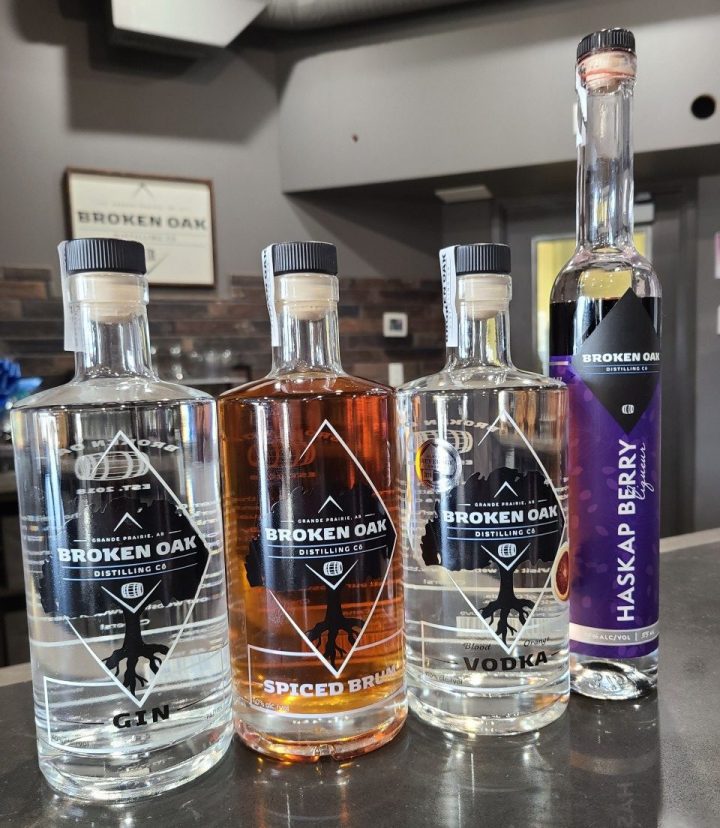 Broken Oak Distilling Co. uses local grain from a farm just north in Sexsmith, giving it a true taste of the north. This craft distillery has set their sights on discovering the taste of their region, which you will find throughout their product lines. Their Prairie Berry Gin brings the area's fruit flavours into a modern gin profile and is an absolute must have for any gin lover (they have a well crafted traditional gin as well for those who prefer a more classic profile). Their haskap Liqueur also uses local berries and is the perfect topping for vanilla ice cream. They also have a mini barrel program for those who want to age their own whisky at home. Latitude 55 Distilling is on point with some seriously delicious spirits. Their Northern Hare Gin incorporates six botanicals including black spruce and fir needle, to deliver its northern Alberta twist on the classic London Dry style. The stunning new label designs even feature local artists. New to their lineup is the Kakwa Rum, inspired by a local landmark and aged in bourbon barrels for cascading notes of sweetness that dance along the palate.
As for the craft beer scene, Grain Bin Brewing is constantly pushing the limits of flavour profiles and regional inspiration to create some of the most unique brews around. Their Democracy series even allows their supporters to vote on what they should brew next! If you head to their taproom, not only can you grab a flight of their rotating taps, but you can also grab a charcuterie board featuring Sylvan Star cheeses and a  selection of meats from the Beaverlodge Butcher Shop. A little more mainstay and a little less rotating, GP Brewing's Mercury Lager is their flagship beer that they have nicknamed "The Official Beer of Winter." It can be found on a lot of local menus and finds its way to other corners of Alberta too! They recently moved to a new location and their new retail shop/tasting room is stocked full of merch and cans ready for you to take home.
While it would be nice to live on beer and spirits alone, sometimes a great cup of coffee is needed. That is when you head to Ole Smokes Coffee. This local shop is doing something that no one else in North America is – they are smoking their beans instead of roasting them! That's right, SMOKED coffee! (They do also have a line of roasted coffee for the less adventurous.) Imagine the flavours of the great outdoors, but in your coffee cup. One sip will have you imagining that you are sitting beside a campfire, but without the bitter aftertaste that you often get from roasted coffees. The Stout Maple brews a beautiful cup, and pairs nicely alongside the café selection of sandwiches and snacks that feature wild game meats like elk and bison. It is definitely not your regular neighbourhood coffee shop.
Worth the Drive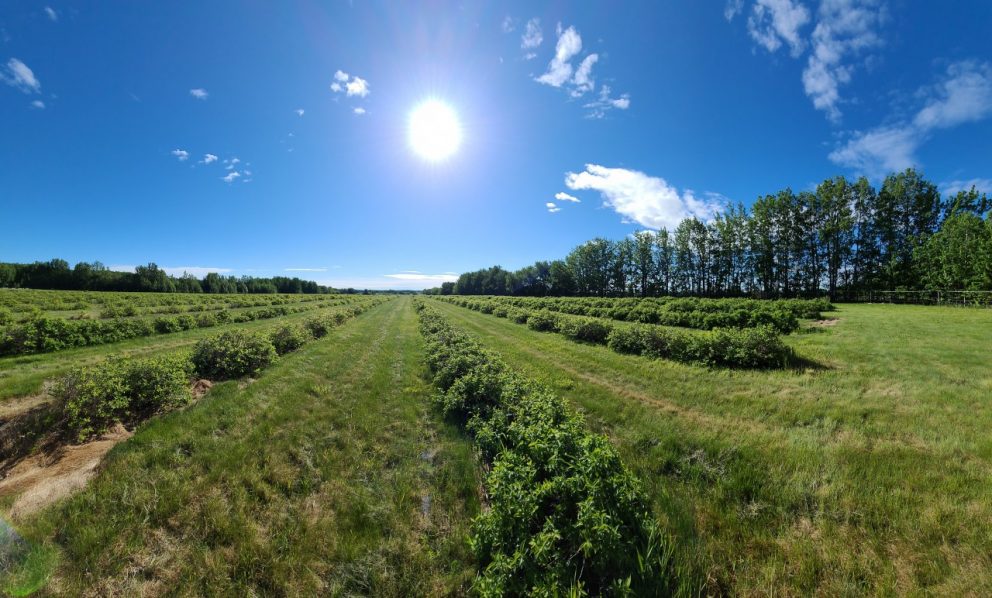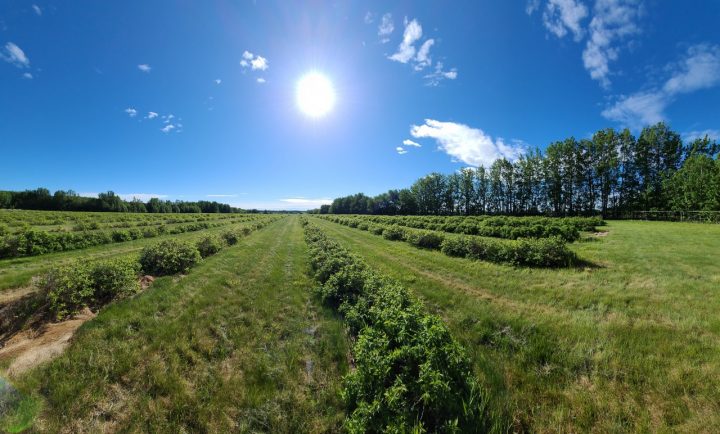 Outside of the city limits, you can find an incredible bounty of other local spots to engage your dining senses. Broken Tine Orchard near Rio Grande is not only a haskap berry U-Pick, but also a family-run farm and a cottage winery that turns those same berries into a beautiful Melomel (a mead that contains fruit). They also have a delightful oak-aged wine from haskap and raspberry (fondly named Has Ras) that is a beautiful fruit wine and will have you adding it to your wine rack. Broken Tine haskaps can be found at the best restaurants around Grande Prairie and throughout Alberta. Vitalaberry, Canada's premier haskap growers collective, is also creating processed products from the berries, like a  delicious berry topping that takes any bowl of ice cream to the next level.
Paradis Valley Honey to the east sits in the tiny hamlet of Watino. This apiary is unlike any other that you have visited – they are one of few "économusées" in Alberta. Économusées help to showcase local products and artisan workshops that are tied to French Canadian culture (you can learn more about them here). Danny and Ginette Paradis are seventh-generation beekeepers, and you get an in-depth look at the history and culture throughout their Valley Bee Café and property with many interpretive panels, displays, and even a window into the extraction room. Grab a honey latte from the café while you learn about beekeeping and the family history and be sure to grab a bucket of honey to bring home (it is perfect for adding to any charcuterie board, in teas, or even just by the spoonful). They produce only Grade A raw honey, so you know it is packed full of medicinal and nutritional benefits, as well as their own line of Well Being Body Products, beeswax candles, and bee pollen.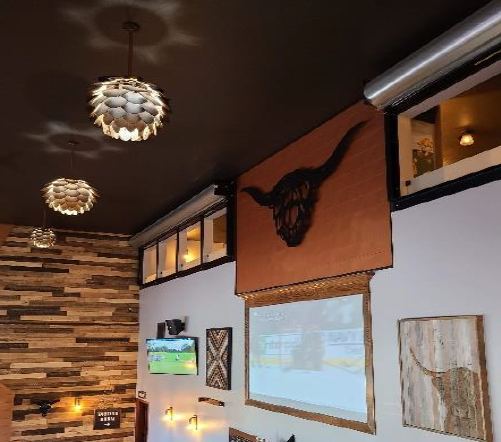 About an hour north of Grande Prairie is the town of Fairview, home to Heilan Beer House. It may be one of the coolest places to visit in all of northwestern Alberta. It would be right at home in Oregon alongside some of the best brewpubs in the world – not what you would expect to find in small town rural Alberta! The building itself is gorgeous, with a seamless blend of rustic and modern features, from their hand-painted murals to the wooden accents to the hop-inspired light fixtures. When they are not brewing up delicious local craft beer (be sure to try their Dirty Blond and their Heilan Hayes), they also run a family-friendly restaurant with a tasty menu of pizzas and pub fare that uses local ingredients. Not in the mood for beer? They also make hard seltzers, kombucha, and have a small selection of cocktails.
Food Tourism Strategies Inc. is a Calgary-based consulting and event company that produces Alberta on the Plate, a platform that highlights and celebrates Alberta food and drink, as well as hosts a provincewide dine around festival every August during Alberta Local Food Week. The 2021 Dine Around takes place August 6-15, 2021 and features over 60 restaurants in over 20 cities and towns throughout the province.
Learn More: AlbertaOnThePlate.com | FoodTourismStrategies.com
Follow on Instagram & Facebook: @abontheplate | @foodtourismstrategies