The Napa Valley, Okanagan, and Niagara Region come quickly to mind as hot spots for wineries. Kristeva Dowling is eager to put the Peace Country on the map for mead production.
The owner of Stolen Harvest Meadery is already making inroads. Launched early last year, the Grovedale business won multiple awards at the 2021 All Canadian Wine Championships and the 2020 and 2021 World Mead Challenge.
Mead is an alcoholic beverage created by fermenting honey with water, sometimes with various fruits, spices, grains, or hops. Though it dates back to ancient times, mead is enjoying a surge in popularity.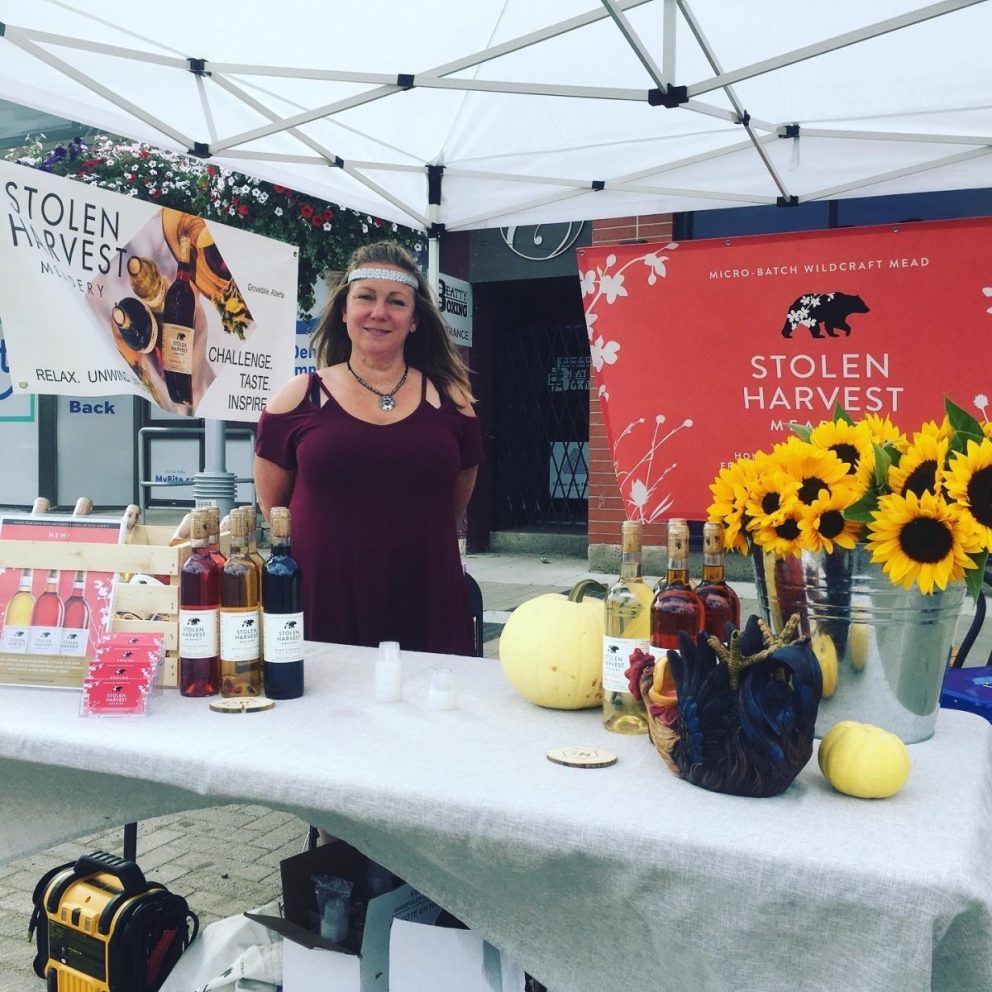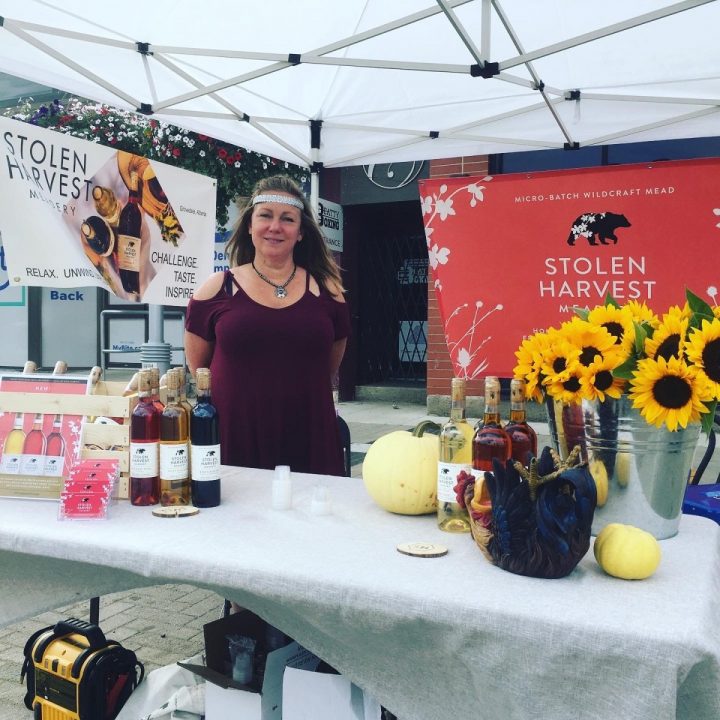 It is pretty darn exciting to say the least," says Dowling of Stolen Harvest's early success. "We bring a unique facet to the region. We complement several other successful businesses in the region from the well-established to the burgeoning, like ourselves.
"We have amazingly beautiful orchards and berry farms in the area that we are lucky enough to work with and who are interested in developing mutually beneficial relationships. And, Alberta is the honey capital of Canada. So what better place to be to make honey wine?"
The meadery blossomed from Dowling's quest to make use of an overabundance of honey from the bees she was keeping on her property.
"At the end of summer 2017, I had several hundred pounds of honey to deal with," she says. "My first attempts at making mead was borne out of bewilderment at what to do with the successful haul of my over-achieving bees!  I was just a small hobby beekeeper so I wasn't selling honey.
"I'm an anthropologist by training so somewhere in the recesses of my mind I sort of knew about mead, theoretically at least. So, on Christmas Day that year, down the Google rabbit hole I went and I put on my first 5 gallon bucket of – what else but –Saskatoon berry mead.
"I was basically using whim and logic to make my first few batches. I thought, 'What would people do in medieval times to make mead?' and proceeded from there. I literally melted snow from the yard for the water part. Despite the crude and amateur first attempt at this craft, the mead was really quite delicious."
Dowling was quickly inspired to start a business, adopted modern production methods and became licensed.
Taste of Place
Dowling is committed to purchasing as much local honey as possible to invest in the sustainability of the area's production and ensure Stolen Harvest's offerings reflect the Peace Country's terroir – characteristics and flavour of a beverage influenced by factors such as climate, soil, and topography.
That means collaborating with beekeepers whose honey is derived from the pollination of unique floral sources like wildflower honey.
"I'd like to find someone who does single varietal honeys like blueberry blossom or haskap blossom or fireweed honeys in addition to sourcing local fruits such as haskaps, strawberries, saskatoons, and rhubarb," says Dowling.
She's also seeking a source of old-fashioned roses and encourage people to grow dandelions as their blossoms make a beautiful mead.
"My niche is very much elegant-style honey wine that showcases the flavour of Wild Alberta," says Dowling.
This involves capturing the essence of regional flora in season and using fruits and berries readily at hand in the area with constant experimentation, including recent testing of a spruce tip traditional that's gone over well.
Prior to producing mead, Dowling's first attempt at fermentation was making dandelion wine. Stolen Harvest will be producing dandelion wine for commercial purposes in spring 2022.
Stolen Harvest's products feature a wide variety of styles. The Rhodomel is influenced by wild rose petals, the White Muscadine Pyment (made from wild Muscadine Grapes), the Melomels (produced with fruits and berries), the Traditional (basic mead using honey, water, yeast) and the line of Bochets (caramelized honey before fermentation).
Being foodies, Dowling and her husband and partner Eric Erme, are eager to see Albertans choosing honey wines to pair with meals or when taking a beverage to friends.
Stolen Harvest's Saskatoon and Ryan's Reserve pairs well with grilled meats. Fruits of the Forest is a good match with charcuterie board fixings, including robust cheeses like Cambozola and game meat pepperoni. Lighter wines like Muscadine Pyment and Birch Hills are recommended for ethnic and spicy dishes like Thai and Indian cuisine.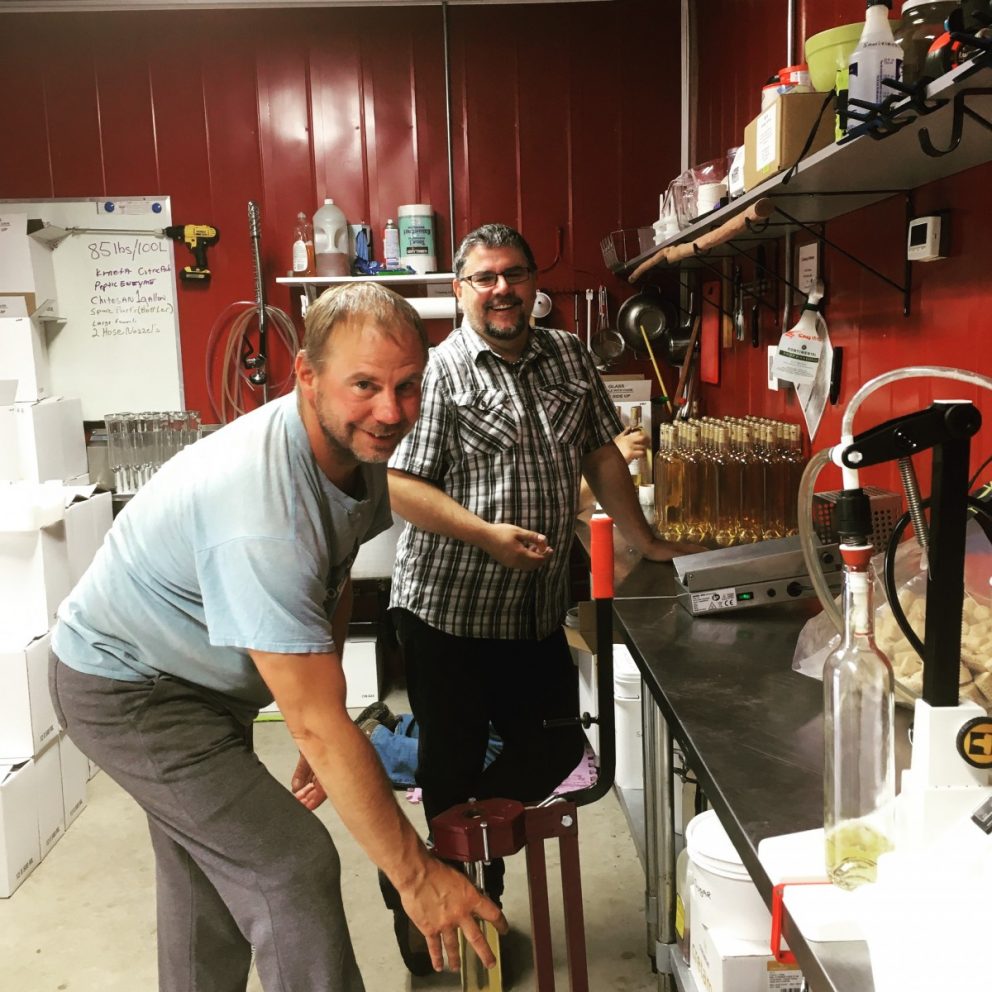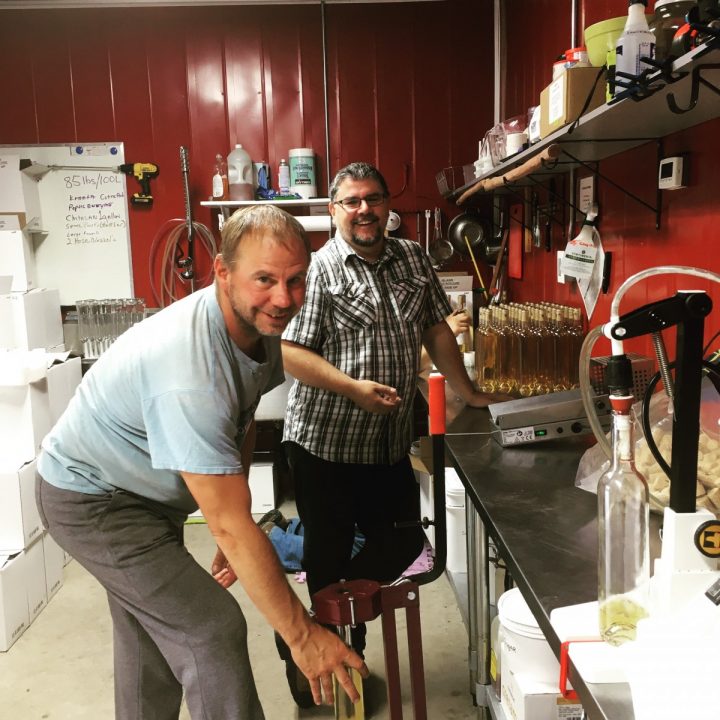 Broadening Horizons
Stolen Harvest has already been in discussion with other wineries in the region about developing a winery tour that could include operators of other businesses, such as berry farms and beekeepers, whose products are used in making local wines and meads.
Dowling looks forward to building a tasting room and having staff beyond her and her husband. They're blessed to have reliable friends to help forage berries and flora, bottle, affix labels, and assist with the website.
They envision dinner parties in the vineyard, having a chef from the area preparing farm-to-table meals paired with honey wines, and collaborations with butcher shops, dairies, cheese makers and charcuterie vendors.
How to Purchase
Purchases can be made via www.stolenharvest.com or at the farm gate by calling 780-380-7776. Visits are by appointment only.
Stolen Harvest products can also be found in Grande Prairie at:
Trader Ridge Co-op
Southgate Co-op
Sparkes Brothers Liquor Locker
Europa Deli & Sausage Hut
Both Royal Spirits liquor stores
Vintage Wine & Spirits
Around the region:
Wembley, Bezanson, and Sexsmith Liquor stores
In the Edmonton area:
Sandy Lane Liquor Store
Aligra Wines & Spirits in West Edmonton Mall
Both Sherbrooke liquor stores
Keg n Cork Liquor Company
Everything Wine and More, and Crossroads Liquor Store in Sherwood Park