Making A Little Noise In The Peace Country
The Grande Prairie region is a wonderful place to live and to visit all year round. Previously, we've talked about witnessing the unfiltered wonder of the Northern Lights or experiencing the thrill of blazing through an untapped land on the back of a snowmobile. But sometimes, it's the people of Grande Prairie and the Peace Country region coming together to celebrate that creates something truly unforgettable.
No matter the season, Peace Country communities can be found having fun, getting loud, and letting their hair down in all kinds of ways. This brief roundup will clue you in on some local favourites. After all, when you live in a big country – sometimes you gotta go big, too.
January – Grande North Winter Festival
Grande Prairie's newest festival is the place to be in the winter! Put on by the City of Grande Prairie in partnership with the GPRTA, Grande North Winter Festival takes place in January throughout the downtown core of the city. The celebration features a host of fun winter events such as skating, ice carving, sleigh rides, live entertainment, great food and drink, and much more.
Ever tried crokicurl? Grande North Winter Festival is the place to do it!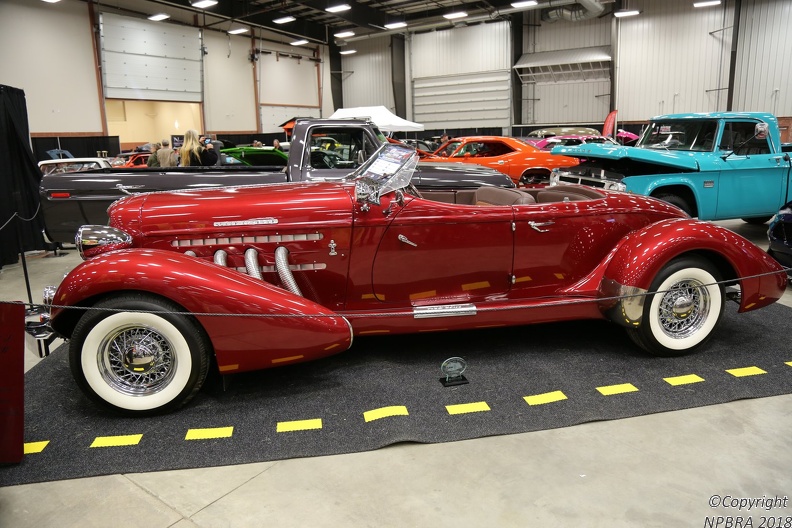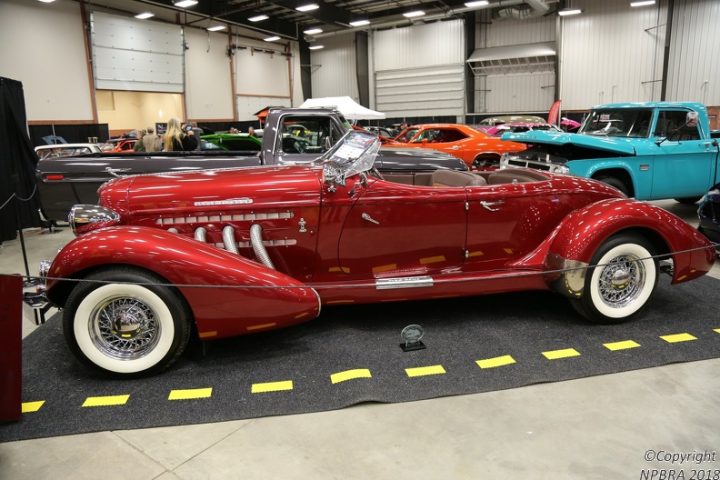 April – NPBRA Spring Spectacular Indoor Car Show
An indoor event for car enthusiasts, the NPBRA Annual Spring Spectacular Indoor Car Show showcases over 150 classic and unique vehicles from all over western Canada and the United States. This three-day event at Evergreen Park is a must for anyone excited to see cars you won't get to see anywhere else.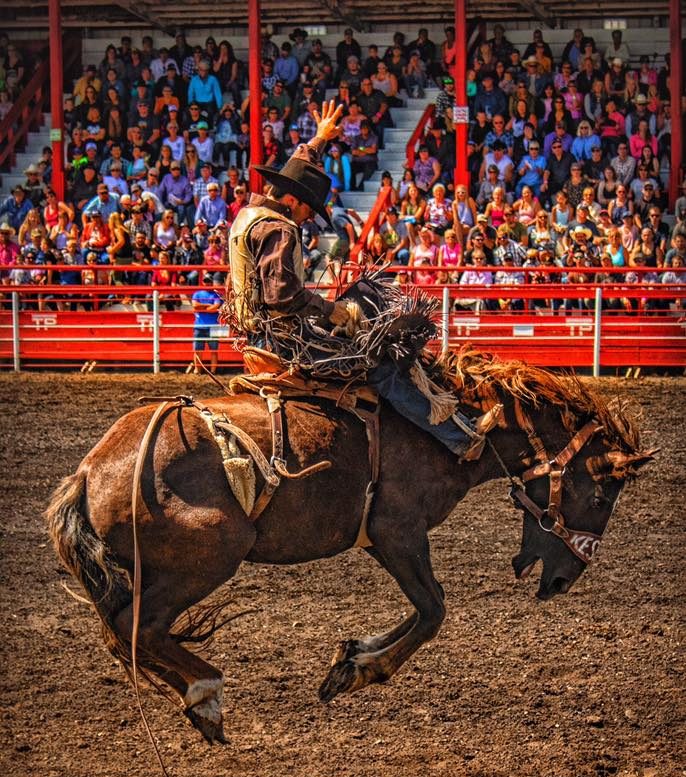 May – Grande Prairie Stompede
Since 1977, the Grande Prairie Stompede has celebrated the region's western heritage with rodeo events and world-class chuckwagon racing. With over a million visitors over its history, and offering a midway with rides, attractions, and live music alongside the horseback spectacle, the Stompede has been called the Peace Region's Greatest Show of the Year.
July – Teepee Creek Stampede
The Teepee Creek Stampede has its beginnings way back in 1917 when settlers in the area held amateur bucking contests and horse races. Since then, it has grown into a landmark event for the region, becoming a pro rodeo event in 2007. Make sure to carve out time in July to catch some truly awe-inspiring rodeo action!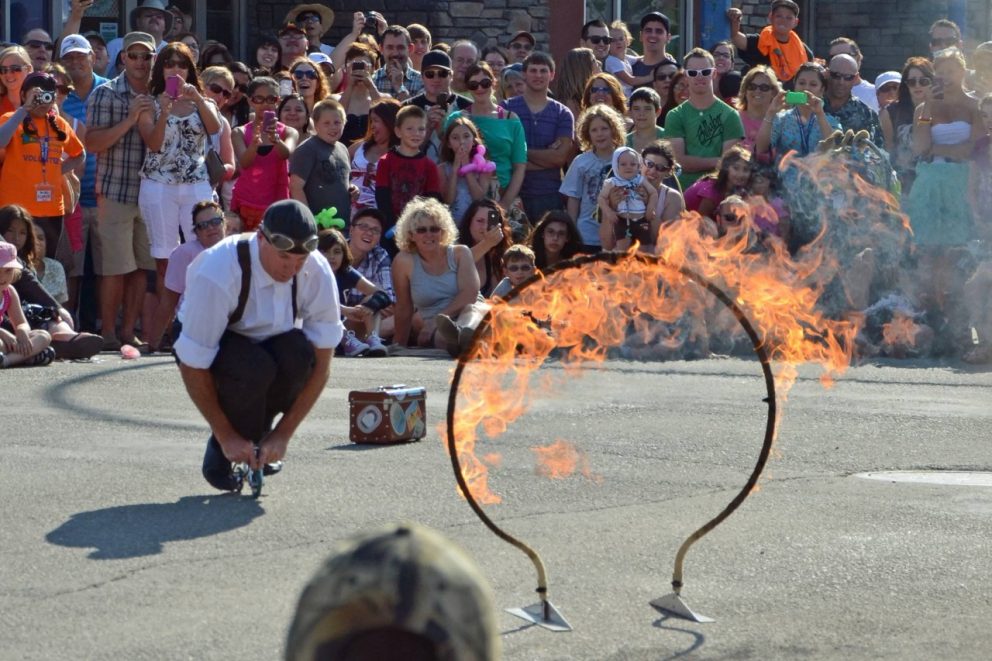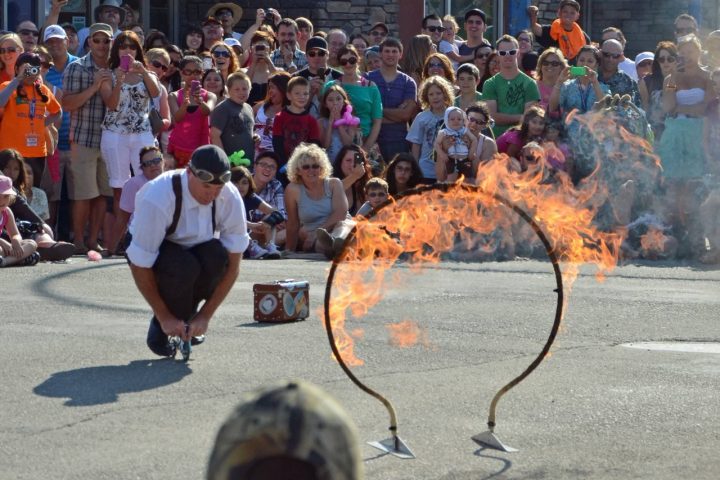 July – International Street Performers Festival
Every year, for three days in July, Grande Prairie's downtown core is taken over by jugglers, hula hoopers, magicians, clowns, and many other performers, dazzling onlookers with their particular brand of showmanship. The Grande Prairie International Street Performers Festival offers family-friendly entertainment, as well as a host of food trucks offering delicious treats. The city truly comes together for this fun summertime event!
August – Bear Creek Folk Festival
The Bear Creek Folk Festival began in 2017, bringing world-class music and a relaxed vibe to Muskoseepi Park in Grande Prairie. This multi-day event features four stages where musicians and performers entertain the crowds in an intimate up-close setting. Hear some great tunes, sample some local beers – what's not to love? Don't miss this premiere music event that has become a staple of the summer in the region.
October – Buckwild PBR
Ever seen Professional Bull Riders live and in-person?. Every October, the country's top bull riders take centre stage at Bonnett's Energy Centre in the PBR Canada Cup Series. Described as "edge-of-the-seat action that resembles a country rock concert with special effects and pyrotechnics", why not take a walk on the wild side?
November – Northern Spirit Light Show
An annual event put on by the Peace Draft Horse Club, the Northern Spirit Light Show is the perfect event to put you in the holiday spirit. Dazzling Christmas light displays are combined with wagon rides, bonfires, and hot chocolate for the perfect holiday experience. Support local charitable causes and check out this beautiful event at Evergreen Park, Grande Prairie!
So there you have it – a year round guide from spring to winter. Visiting these signature events will guarantee you some wonderful memories and will have you excited to attend them again next year! If you do find yourself at one (or more) of these events, be sure to share your memories with us by tagging your photos #gptourism. We'd love to see and share your experiences!