Where to Stay in Grande Prairie
There are a lot of reasons to visit Grande Prairie – and whatever yours may be, your trip will only be improved by choosing the best place to stay to suit your taste. From accommodations that set up the business traveler for ultimate success to family-friendly fun zones that kids (and pets!) can enjoy, we put together a guide to help you get the most out of your stay in our wonderful city.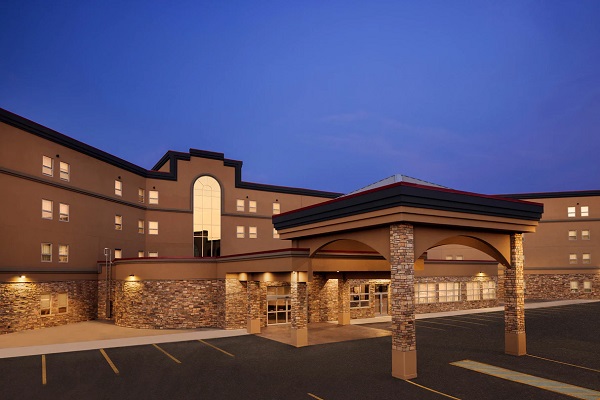 Grande Prairie Family Hotels
Just a few minutes from the airport, the Delta hotel has an indoor pool (with a whirlpool and waterslide), a fitness centre, and even a video games station in the Kids' Lounge. The hotel is also a Destination Marketing Fund partner and a preferred choice of the GPRTA!
The Redwood Inn is a quiet retreat away from downtown, with award-winning hospitality, pet-friendly rooms, a pool and slide, and free breakfasts. Plus, there's a shuttle service to nearby amenities to help you save some money.
Close to the intersection of both of Grande Prairie's major highways, the Holiday Inn Express provides free parking, Wi-Fi, and breakfasts to guests, as well as a pool centre and shuttles to the nearby airport.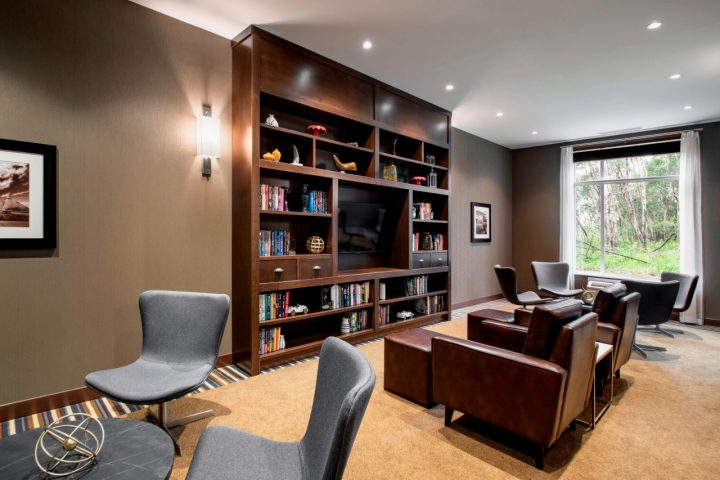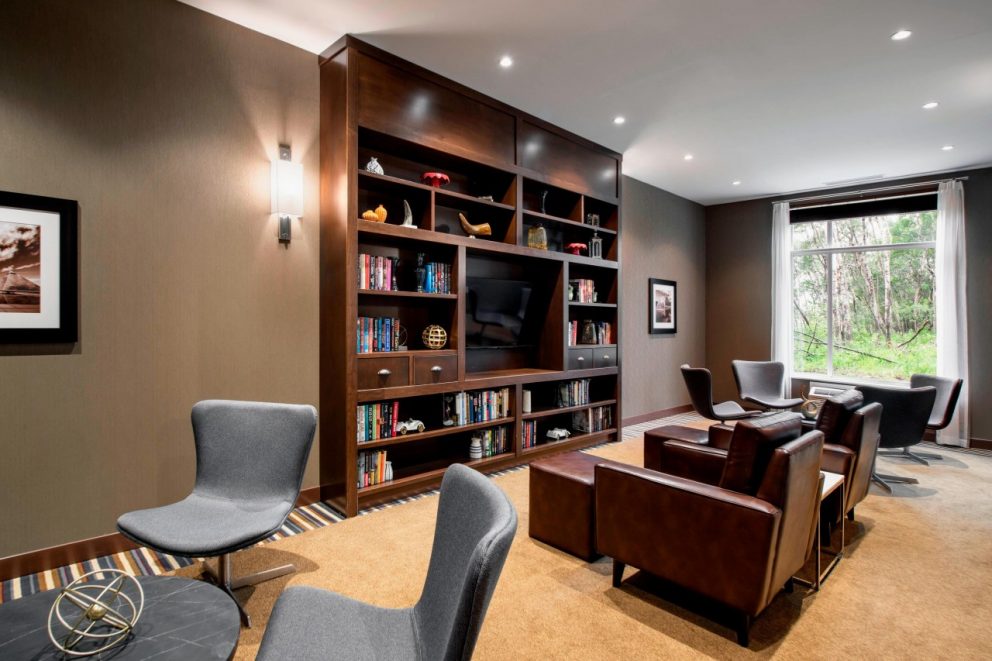 Staying in Grande Prairie for Business
With a breakfast restaurant and bar onsite (as well as an Earl's just steps away), the Sandman is a great place for after-work dinner and drinks. The central downtown location, well-equipped business centre, and high-speed internet keep you connected – both on- and offline. This Destination Marketing Fund partner is a preferred choice of GPRTA!
Located in the southern part of the city, this hotel – which includes a business centre, a restaurant, and other amenities – is near the Eastlink Centre, a world-class rec facility, Red Rock Urban BBQ, home to tasty southern comfort foods, as well as the Grande Prairie Golf & Country Club if you're up for hitting the link.
The Pomeroy offers a unique all-women's floor, specially designed for women traveling alone with secure keycard access, a ladies-only lounge and fitness centre, and other amenities. Other features include an indoor pool and The Office, an on-site restaurant with a tasty breakfast buffet, and the Skylark Lounge for after-work happy hours.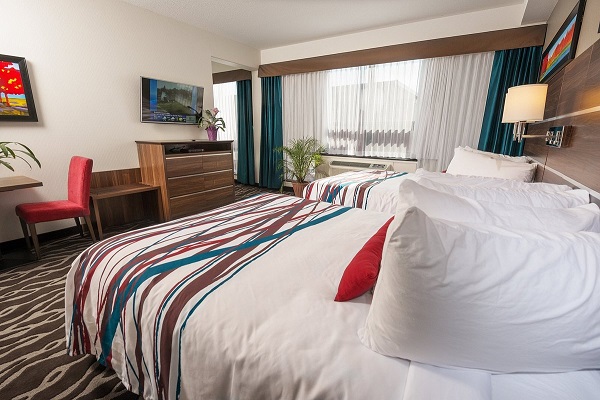 Grande Prairie Pet-Friendly Hotels
Encore Suites offers 94 pet-friendly rooms for your 4-legged companions. Guests enjoy complimentary hot breakfasts, kitchenettes, and free Wi-Fi (for uploading cute pet photos, of course).
Service Plus lives up to its name, with a free airport shuttle and breakfast, and an on-site waterslide and pool at its location near the Great Northern Casino. Rooms are pet-friendly and ready when you are!
Enjoy a quiet stay north of the city at the pet-friendly Ramada, with daily hot breakfasts and a 24-hour fitness centre. There's also an on-site convenience store for last-minute snacks (or dog treats).
Top Luxury Stays in Grande Prairie
Make the most of your stay at the Delta, with an on-site restaurant, dry cleaning service, and deluxe rooms and conference centres that will make you feel right at home. Delta Hotels is a preferred choice of GPRTA as a Destination Marketing Fund partner.
From fresh craft brews on tap to the hot breakfasts at the on-site restaurant to exceptional standards of cleanliness and convenience, the Four Points is a great place to unwind after a long day – or to prep for a new day full of adventure.
Looking for heavy-duty relaxation? The Vine Luxury Spa is located in this hotel, and the L Spa & Wellness Centre is just a few minutes' walk away. Enjoy either to your heart's content, as well as an indoor pool, a highly-rated restaurant, and a central location that's easy to plan around.
Top Out-of-Town Stays
Stay a little longer at this comfy hotel surrounded by the Rocky Mountains in Grande Cache, about two hours south of Grande Prairie. If you want to unwind and recharge with a stress-free vacation, this is the place to do it!
Get an authentic Albertan outdoors experience at this lodge, nestled deep in the mountains by Grande Cache. A great stay for riders, hunters, hikers, or anyone who wants to leave traffic jams behind.
Best Value Hotels in Grande Prairie
Pet-friendly, on-site gym and restaurant, and just a few minutes from the Eastlink Centre and downtown – the value of Paradise Inn goes far beyond its affordable nightly price.
Close to the highway crossroads with 80+ rooms, the Canadian Motor Inn is walkable to anything you might need during your stay, but still prioritizes good value and pleasant, comfortable experiences for its guests.
Just a few minutes north of downtown in the quiet community of Westlake, the Motel 6 is affordable but provides high-speed internet, laundry services, and great value for every visitor.
Wherever you choose to stay in Grande Prairie, we know you'll have a wonderful time exploring our region – and don't be afraid to reach out and let us know if you have any other questions or need any other information, anytime!