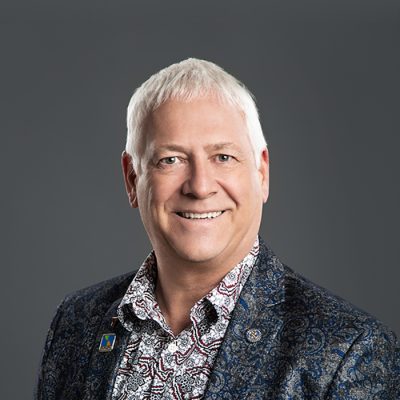 Executive Director
Ken Loudon
Whether at work or play, tourism has long been at the forefront for Ken Loudon.
As GPRA Executive Director since March 1, 2021, he champions the industry and region on a daily basis. That's right in his wheelhouse.
Ken has worked previously in the hospitality sector with hotel and casino positions. He has also served as a GPRTA Board member and President, and he's in his fourth term on the Grande Prairie and District Chamber of Commerce Board.
Away from work and his volunteer roles, Ken keeps busy exploring the region he's now promoting.
"On summer weekends, you'll find me at the lake at Shaw's Point with the family. I also enjoy cycling, hunting, hiking. In the winter, I enjoy skiing."
Ken sees the Executive Director role as a natural fit.
"This position allows me to use all my skill sets and capitalize on the extensive network I've gained over the past 24 years living and working in the Grande Prairie Region," he says.
"Tourism is a major economic pillar within the region. I have the opportunity to support industry stakeholders, business and surrounding communities alike in promoting the beauty of the North."
Ken was formerly Regional Corporate Development Manager/Regional Manager, at the Grande Prairie/Wood Buffalo YMCA of Northern Alberta.
There's no end of things to profile and celebrate in the region, Ken says.
"The strength of the tourism industry in this region is the vast diversity of opportunities for explorers to enjoy," he says.
"We have so much to discover within the region. Collaboration and the layering of experiences is essential to providing a complete package to our guests. Supporting stakeholders in developing those moments and memories is essential."
Ken's excited to help the GPRTA navigate through challenging times for the industry.
My priority is to evaluate the value-added components of the organization to our membership and its impact on driving business into our region," he says. "We need to be responsive to what our members value and deem important. We then need to deliver those elements in a comprehensive manner to bring growth to our members.
"This region is a leader in the economic recovery and tourism is a primary contributor to that. Extending our reach and increasing our capacity to deliver quality products and services to our visitors will ensure continued growth in the region."
"I'm proud to be working with this amazing team of like-minded regional leaders and staff, he says. "I'm excited to see where this journey leads us. I count it as a privilege to be able to serve this region and contribute to its development."
Ken's no stranger to consensus building and ensuring fairness.
He's the head soccer referee for the Northwest Peace Region and the Swan City Football Club. His more than 20 years with the Swan City Rotary Club includes a term as president.