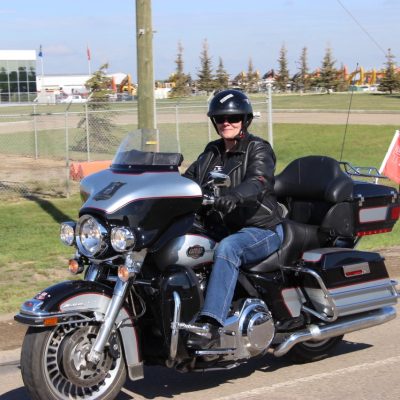 Board Member
Renee Charbonneau
Executive Director,
Canadian Motorcycle Tourism Association
Throughout my diverse and dynamic career, I've been deeply immersed in various roles, reflecting my passion for motorcycling, community engagement, and small business advocacy. Since 2010, I've proudly served as the Executive Director of the Canadian Motorcycle Tourism Association, where I spearhead initiatives to promote rubber tire tourism and foster rider-friendly communities.
Before this, from 2003 to 2020, I charted my entrepreneurial journey with Belt Drive Betty Media, showcasing my self-driven spirit. My journey includes experiences ranging from being a Tower Operator at Hanson Ford to providing palliative care to my father.
I've navigated the realms of retail at Home Depot, managed floral endeavors at Flowers by Renee, and led promotions at Kingsway Inns International. Notably, my time as the Propulsion Enterprises Promotions Manager in California, where I also served as the Jet Car Crew Chief, added an exciting dimension to my career.
My educational journey has been marked by a commitment to continuous learning, including courses in event management, Adobe Photoshop, and small business training. As a lifelong learner, I've attended various seminars, workshops, and training courses to enhance both my personal interests and professional development.
I've also contributed to the community through volunteer work, from aiding during the Fort McMurray Wildfires to my ongoing involvement with Veterans Memorial Gardens. My multifaceted career is complemented by publications, including my book "Quebec for the English Speaking Rider," and memberships in organizations like the Canadian Army Veteran's Motorcycle Units. Passionate about motorcycling, cooking, and volunteering, I continue to weave my unique narrative in the fabric of Canadian Motorcycle Tourism and beyond.