There are a lot of reasons to visit Grande Prairie – and whatever yours may be, your trip will only be improved by choosing the best place to stay to suit your taste. From accommodations that roll out the red carpet for your pets to family-friendly fun zones, we put together a guide to help you get the most out of your stay in our wonderful city! (Don't forget: for a limited time, select hotels are offering a discount on your next stay when you visit our Grande Plan Stay & Play page. Check it out to book and save!)
Pet-Friendly Hotels in Grande Prairie
1. Traveling with a pet can bring its own set of challenges – how will your cat get an uninterrupted nap? How will your dog possibly smell everything along the way? – but you're in luck, because finding a good animal-friendly place to stay in Grande Prairie isn't one of them. You'll have everything you need at the Encore Suites by Service Plus Inns(10639 110 St), offering 94 rooms with a complimentary hot breakfast, kitchenettes, free Wi-Fi (for uploading cute pet photos, of course), plus are a participating member in the Grande Plan Stay & Play deals when you book here.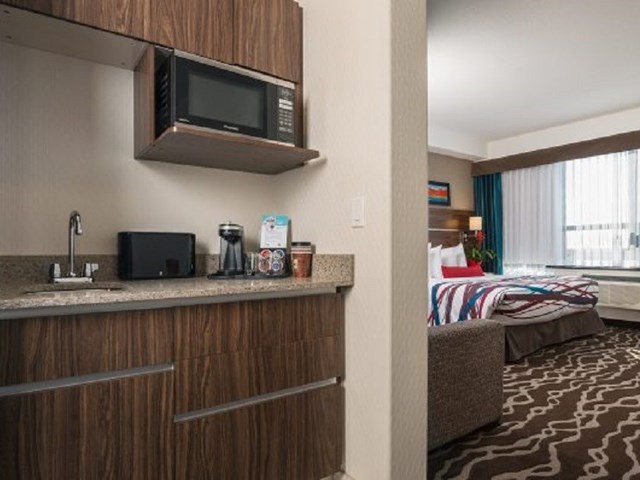 2. Just a few blocks from there are the Service Plus Inns & Suites (10810 107 Ave), another great option for your furry friends. This venue has a waterslide/pool (though with COVID restrictions, it's a good idea to check whether it's open beforehand), a free airport shuttle, and is found next door to the Great Northern Casino, which has a fabulous restaurant and plenty of activities to keep you entertained. Ready to book? Take advantage of the exclusive Stay & Play discount at this link.
3. Still not convinced? You can try the Ramada Grande Prairie (7201 99 St), found just a few minutes north of the city in Clairmont. You can enjoy a hot breakfast served every morning, HD TVs, a 24-hour fitness centre, and even an on-site convenience store for last-minute snacks (or dog treats, of course).
The Best Business Travel Hotels in Grande Prairie
1. If you're heading into the Peace Region for business, you want a relaxing place that you can unwind after a long day, furnished with all the comforts of home. You can find just that at the Sandman Hotel (9805 100 St), located in a convenient central location that's close to numerous restaurants and landmarks, and equipped with a business centre and high-speed internet – keeping you connected when you need it.
2. In town for a while, with some time to spare? You can stay a little closer to the fun by booking a room at the FourPoints by Sheraton (6702 106 St). This superb hotel is near a world-class recreation facility at the Eastlink Centre, as well as the Grande Prairie country club and its excellent golf course. On the premises itself, there's a spacious business centre, a restaurant, and all the amenities you need to enjoy your stay. Not to mention you won't want to miss this discount offer when you book through our Grande Plan page – available for a limited time!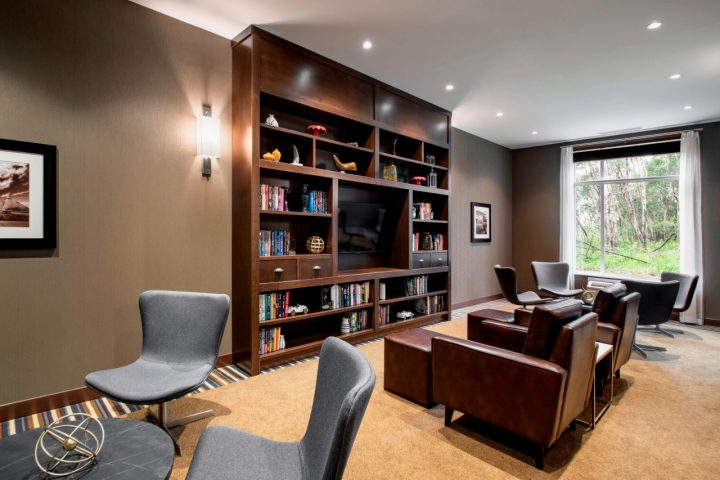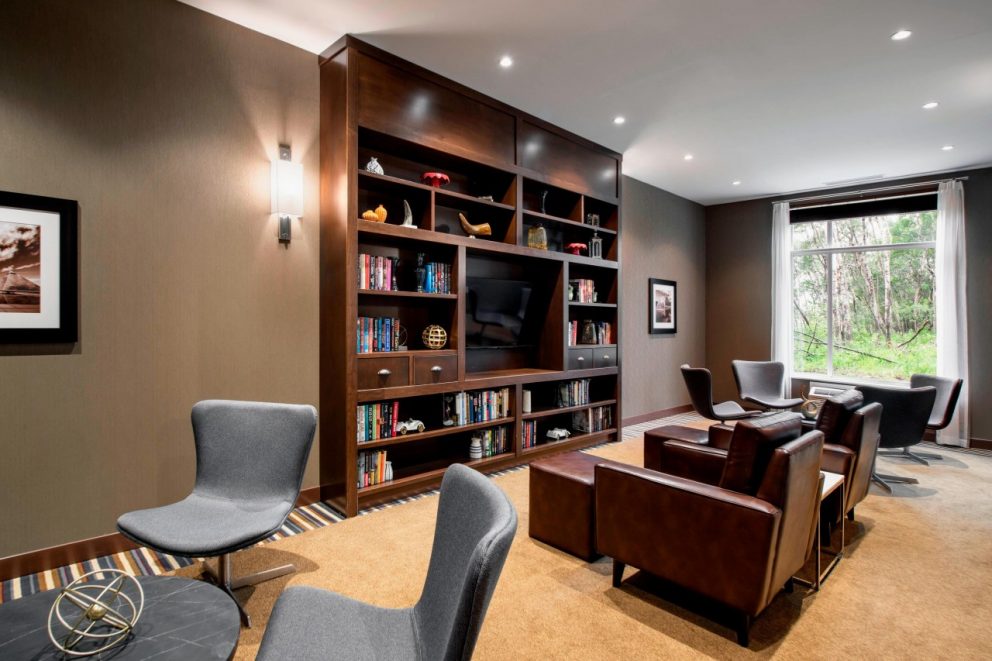 3. The Redwood Inn & Suites (8117 99 St, Clairmont) is one of the newest hotels in the region, with a full platter of amenities, services, and spaces for guest of its 92 rooms. Of particular note here is 2,200 square feet of business and meeting rooms, able to accommodate groups up to 40 people with catering, Wi-Fi, projectors, and other necessities. If you need to host a business gathering, this is an excellent place to do it.
Family-Friendly Hotels in Grande Prairie
1. Remember the Service Plus from a few paragraphs back? Turns out they're not just great with pets – they also have plenty to offer for families passing through our city! Whether it's winter or summer, a visit to the indoor pool is a must (if restrictions allow), and it's only made better by the adjoining 210-foot waterslide. Plus, the free breakfast will ensure everyone gets enough to eat before heading out to do some sightseeing.
2. Speaking of waterslides and free breakfasts, another great choice is the Redwood Inn & Suites – they do more than just business trips! Get both of those amenities, alongside dog-friendly service, rotating deals on rooms, and award-winning hospitality, all in a quiet location away from the noise of the downtown area. It's even got shuttle service to nearby attractions, which can save you some money on taxi fare if you're seeing some of the city on a budget.
3. The Holiday Inn Express (10266 117 Ave) is near the intersection of both major highways that cross Grande Prairie, providing visiting families with free parking, airport transportation, and Wi-Fi for everyone's devices. There's also a pool with a waterslide here, as well as a complimentary breakfast, and you'll be sure to love the proximity to some of the areas most well-known attractions, like the Philip J. Currie Dinosaur Museum and Revolution Place.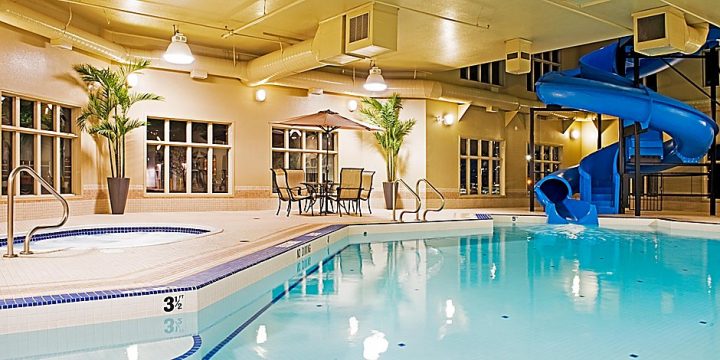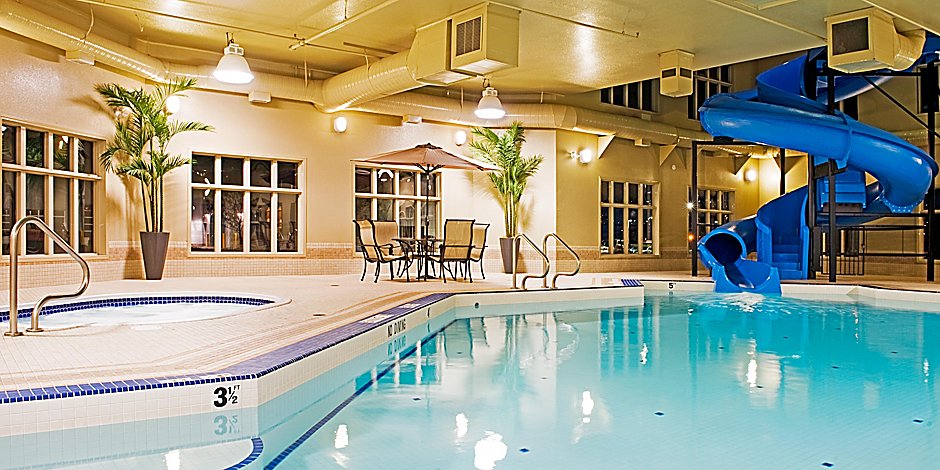 Hotels Close to the Grande Prairie Airport
1. If you're flying in to Grande Prairie and are looking for accommodations near the airport, you won't have to go far to find the Paradise Inn & Conference Centre (11201 100 Ave). It's only 2 km from the terminal, 5 minutes to downtown, and in the middle of one of the city's newest development areas, full of entertainment and dining options to complement those already found on the premises.
2. Even a little closer is the Stanford Inn (11401 100 Ave), a pet-friendly building with easy access to nearby shopping and green spaces. There's an onsite family restaurant, Monica's, or a bar & grill for a more refined experience, as well as a fitness centre and sauna.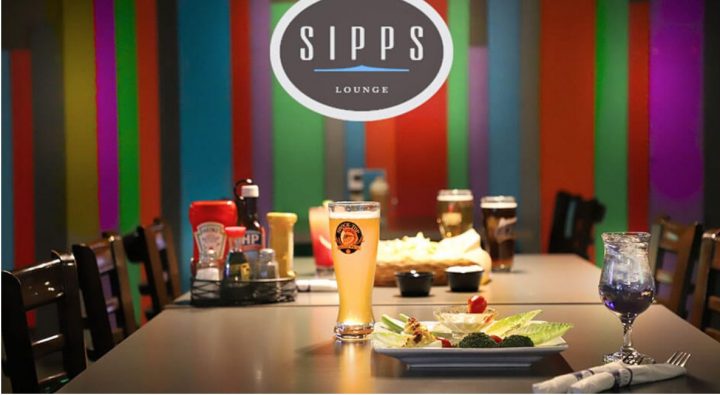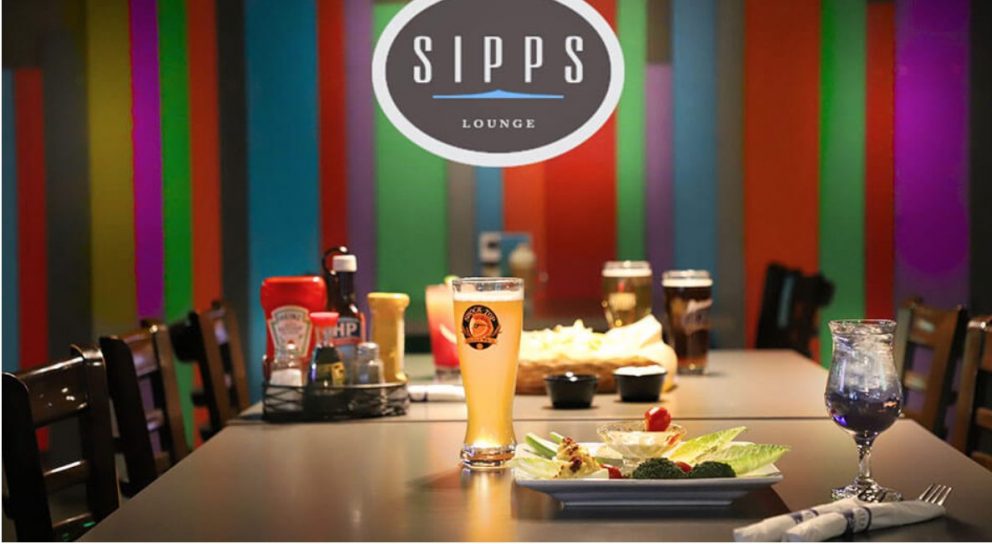 3. Crossing over from our pet-friendly section are the Encore Suites by Service Plus Inns. Located near the Bear Creek Reservoir parks and pathways, it's an excellent choice for nature lovers, but its proximity to both the airport and plenty of shopping and dining options also makes it a great destination in general. Don't be afraid to pop into the casino next door, or The Den pub for a relaxing end to your day.
Best Value Hotels in Grande Prairie
1. Sometimes when you're traveling, you don't need all the bells and whistles – you just need a clean and comfortable place to sleep and act as a home base. The recently updated rooms at the Stonebridge Hotel (12102 100 St) provide great value, complete with satellite TV, free breakfasts, and Hypnos pillow-top mattresses that will always make you want to stay just one more night.
2. The Canadian Motor Inn (10901 100 Ave), at the crossroads of Highways 40 and 43, has over 50 kitchenette rooms to make your stay more comfortable, and is within walking distance of plenty of shops and restaurants. If you need excellent value for every dollar, you'll definitely find it here.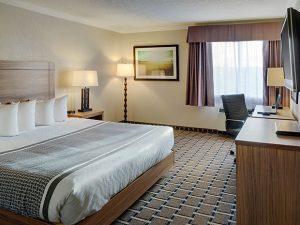 3. In a similar vein, the Motel 6 (15402 101 St) is the go-to for unbeatable value for visitors. The building features guest laundry, high-speed internet, and a quieter location north of the city, without the noise of downtown. If you're a fan of simple pleasures, this is the place for you!
The Best Hotels with Restaurants in Grande Prairie
1. Maybe you're the type of person who likes to have everything in one place – and it's true that when the weather gets colder, it's nice to have a nearby option for food and drink close to your hotel. The Four Points by Sheraton has just that, with the Social Bar & Grill on-site for all your dining needs, from hearty breakfasts and lunch wraps to steaks, burgers, and other casual fare.
2. Over at the Stonebridge Hotel, you'll find the Prairie Café and Trumps Lounge. The café offers simple, wholesome recipes for the whole family from 6 AM to 2 PM daily, making it a perfect choice for early risers. The lounge is your go-to stop for watching sports or meeting friends while enjoying some wings and drinks, and it's open til 1:30 on the weekends if you're more of a night owl type.
3. Finally, at the Sandman you'll find Denny's, Shark Club and Bar One,  ensuring you can have any craving satisfied for any meal of the day. From big breakfasts that fuel you up for a day of exploring to world-class dinners that will have you coming back for more, this is definitely a hotel where there's something for every palate.
Wherever you choose to stay in Grande Prairie, we know you'll have a wonderful time exploring our city – and don't be afraid to reach out and let us know if you have any other questions or need any other information, anytime!