Five Unforgettable Winter Date Ideas
Five Unforgettable Winter Date Ideas
Traditional, Untraditional, the Grande Prairie Region has it All…
When it comes to chilly winter weather, we get it – the temptation to stay inside, curl up on the couch, and turn on the TV is hard to resist. But if you and your significant other want to venture out beyond your living room for a romantic time, we've made a list of the top five winter date ideas in the Grande Prairie region.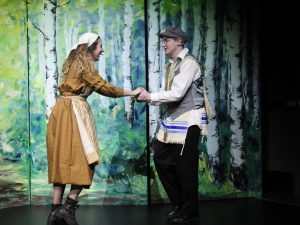 1. Grande Prairie Live Theatre
Get a little shot of culture at the Grande Prairie Live Theatre. With a mix of classic plays and shows, touring bands and comedians, and original performances put on by locals, the GPLT's ever-changing line-up can offer a wildly different experience from one week to the next. Laugh, cry, or rock out – do whatever you and your partner's hearts tell you!
2. Dinner and Drinks
No matter the season, a nice dinner and drinks is a classic way to spend time with your partner. Winter's a time for indulgence, so feast and drink to your heart's content at some of the best spots in Grande Prairie proper. We recommend Latitude 55's new cocktail lounge and eatery for their inventive hand-crafted spirits, the Crown and Anchor's classic fare and warm atmosphere, Grain Bin Brewing Company's mix of seasonal drinks, and Earl's Kitchen + Bar for their expansive, popular menu.
3. Take a weekend getaway to Powder King
If one night's not enough for you, a weekend at a nearby ski resort, Powder King, is a trip to remember. Named for the deep, fresh powder Mother Nature frequently delivers, Powder King is not as well-visited as the more crowded resorts in Jasper or Banff, meaning you and your partner have the chance to get lost in a snowy winter wonderland together. And remember, even if you don't like skiing – there's always the après-ski. A warm fire, hot cocoa, maybe a hot toddy.
4. Skating at Muskoseepi Park
Muskoseepi Park is one of the City of Grande Prairie's best-kept secrets. Running almost the entire length of the city, you can easily access it from downtown to enjoy a stroll through the well-kept nature any time of the year. In winter though, Muskoseepi Pond freezes over and is open to the public at no charge. Lit until 10 p.m. every night, there's an undeniably romantic vibe as the evening draws on.
Being so close to downtown, Muskoseepi Pond is also in proximity to a whole host of great establishments. Why not grab a couple of cupcakes at OMG! Cupcakes on 100 St. before you and your partner hit the ice? Remember, it's winter: you need those extra calories for skating energy!
5. Visit Evergreen Park, the Wild Horse Casino & Lounge 
Located in the heart of Evergreen Park, the Wild Horse Casino & Lounge stands as a premier destination for those seeking excitement, entertainment, and indulgence. Nestled amidst the picturesque landscapes, this establishment promises an unforgettable experience that combines the thrill of gaming with the allure of fine dining
These are just a few ideas to help you and your partner spend time together through the winter. Don't worry, we've got you covered for other seasons, too – check out our Date Night in Grande Prairie blog, or our Fall In Love In (and With!) the Grande Prairie Region blog for further hints and tips. Wherever you choose to visit, we love to hear about it on social media. Hit us up with your stories and photos using #GPTourism!