8 Indoor Activities for Kids
A How-To on Keeping Cabin Fever at Bay in the Grande Prairie Region
8 Indoor Activities for Kids
Sometimes, the temperature drops in winter and it becomes too cold to go outside. If you've got kids, no doubt you're already clenching your fists in fear. Cabin fever strikes, and suddenly you're trapped inside with one or more rambunctious balls of energy that are banging on the walls looking for something to do…
No sweat! There are plenty of ways to beat boredom in the Grande Prairie region. Getting to spend time with your kids is a blessing, and our fun list of the top things to do indoors will help your family stay on top of cabin fever this winter.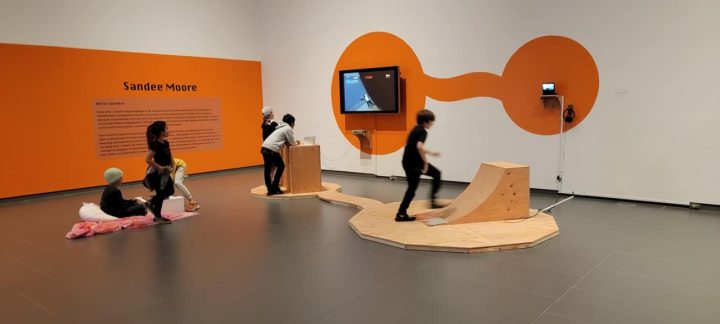 1. Spark Their Creativity
Letting your kids express themselves is not only fun, it's educational! The Centre for the Creative Arts offers programs for youngsters all year round, and the Art Gallery of Grande Prairie currently has an exhibition about the history of video games – a perfect excuse if you need to pry your kid away from the PlayStation!
2. Take Them to a Show
Go beyond the cinema – the Grande Prairie Live Theatre features a regularly rotating lineup of family-friendly live shows, with something new always ready to catch your eye. The highlight of this winter season is Shrek the Musical, something your kids are guaranteed to get ogre-excited about.
3. Take a Trip Through Time
The Philip J. Currie Dinosaur Museum is ready to bring you face-to-face with strange creatures from ancient times no matter the weather outside. If human history is more your style, the Grande Prairie Museum charts the story of the first European pioneers who settled in the Grande Prairie region – and best of all, admission is free!
Is your little one a history buff? Visit our History Buff's Guide for more museums and historical sights to visit.
4. Go For a Swim
Local lakes and rivers may be frozen for eight months of the year, but there's swimming to be done. Visit the Eastlink Centre, which boasts toddler-friendly wading pools, a variety of water slides, as well as a fun series of obstacles in a water park. Older kids (and you!) can challenge themselves to swim distances in the 25m or 50m pool.
5. Play Like It's Summer
For those who truly can't wait for July to roll around again, the Sand Zone has a year-round beach just waiting for you and your kids to make sandcastles on. Along with a range of activities like volleyball, yoga, and fitness classes, spend an afternoon at this little indoor oasis and you'll have tons of fun!
6. Try Your Hand at Curling
Give your kids a taste of prairie province culture by visiting the Grande Prairie Curling Centre. The Centre regularly hosts free 'try it' days for kids aged 6-8, where they can deliver a stone for the first time, or lanes can be rented out for your family to discover this wonderful sport in private. Check out their Facebook for updates on events.
7. Get Lost in the Library
Escaping the winter by reading a good book is a tradition that has been around for as long as… Well, as long as books have! The Grande Prairie Public Library is the largest library in the region, offering thousands of titles for your kids to browse and rent for free. If that wasn't enough, their Library of Things offers a unique collection of items to rent, featuring everything from microscopes to ghost-hunting kits!
8. Step Onto the Ice
Attached to the Eastlink Centre, you'll find the Design Works Centre, which has two ice rinks suitable for everything from figure skating to figuring out how to skate. With a schedule that offers regular family time slots, you can tire your little ones out quickly and easily.
Don't Forget Yourself
Hopefully, this will give you enough ideas to make it through those cold winter days when venturing outside is not much of an option. But don't forget – adults can get cabin fever too! If you're feeling a little cooped up and looking for entertainment, why not check out our blogs on Grande Prairie nightlife, the best breweries, and distilleries in the region, or date spots?
As always, we love to see your Grande Prairie region moments on social media. Hit us up on Facebook, Instagram, or LinkedIn with the hashtag #GPTourism, and we may feature your content on our feeds!