GPRTA Takes Pride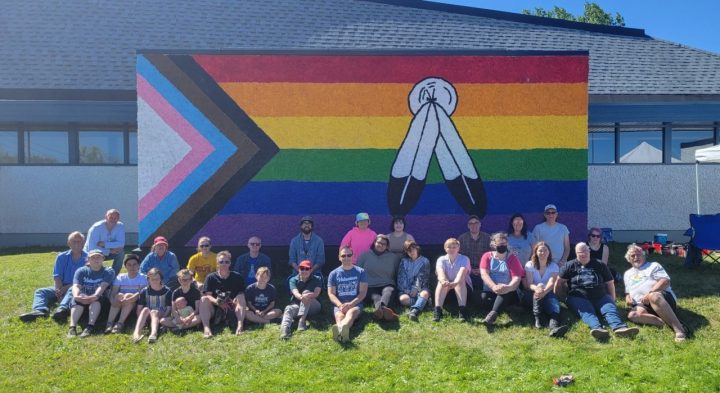 The Grande Prairie Pride Society joined the GPRTA in June of 2022, just in time for Pride month of that year. But our ongoing partnership represents much more than a one-month event – it's a year-round relationship that is allowing the Pride Society to build on its local success and open the doors for more people across the region to get involved.
"As Pride in Grande Prairie grows, the Grande Prairie Pride Society hopes to draw even more visitors to the city to its events," explains Pride Society President Erica Fisher, "We'd love to see people from across the Peace Country take part in our events as well as to support their own Pride events in return. We believe that by collaborating with the GPRTA and its partners, we'll be able to extend our reach even further and make our events a part of the city's tourism landscape."
For its part, GPRTA has joined the GP Pride Society as Friends of Pride.
"Our mandate is largely to host events that celebrate Pride in our community and across Northern Alberta," Fisher continues. "Increasing visibility has been a primary focus of the past couple of years and we continue to see increased acceptance and support of our cause. The partnerships we can make with GPRTA and its members and associates can help in that goal."
"We want to work with more businesses and organizations on their diversity and inclusion goals, as well as to highlight the efforts they're already making. In turn, we hope we can see their support as well."
Brimming with Pride
Pride 2022 was the largest to date, starting with the sixth annual rainbow crosswalk painting on 98th Street between City Hall and the Montrose Cultural Centre on June 9. This activity has grown to include a barbecue and games in a celebration open to the community. Overall, the slate of events was designed to connect with families and all ages, and the event is evidently growing in popularity – a Rainbow Bright Teen Dance on June 10 sold out at 225 tickets to youths aged 13 to 17. The previous record was 115.
"Those attending had an opportunity to be themselves with their peers, enjoying pizza and mocktails, and a drag performance by two queens from RuPaul's Drag Race. The entire event was free in an effort to remove as many barriers as possible," says Fisher.
On June 11, the Pride Family Carnival, another free event, attracted thousands of visitors throughout the day. It included bouncy castles, face painting, carnival performers, and a pancake breakfast, as well as a community alley, showcasing an array of non-profit organizations. The Party in White, an event for 440 people, featured performances by four drag queens from RuPaul's drag race, a catered dinner, a dance, and a VIP meet and greet. When this event was last held, 175 attended.
The Pride Society is not resting on its success. "We want to continue increasing our membership and to be able to offer more to our members, like workplace training, in the future," says Fisher. The Society created its Friends of Pride membership in 2020 as a way to show broader support in the community and to involve more individuals and small businesses. In addition to the nine-member board, the society has a large contingent of volunteers and a diverse array of community sponsors to support events.
Growing Support
The Grande Prairie Pride Society has seen incredible support from the community since its inception in 2015/2016," says Fisher. "Over [time], we've seen the depth and variety of our sponsors grow. In 2022, we had a title sponsor, four queen sponsors, five signature sponsors, a youth sponsor, an accommodation sponsor, a transportation sponsor, a decor sponsor, a photography sponsor, two entertainment sponsors, and two media sponsors, along with nine other major sponsors, and a Friends of Pride list of 38 and counting."
That broad level of support is important and is also reflected in the growing attendance at events, interactions on social media channels, and referrals. 2022's Pride event being the largest ever was especially pleasing to the society as it was undertaken without the provincial grant it previously accessed.
"The Grande Prairie Pride Society feels privileged to have so much personal and professional support," says Fisher. "Every year, it's clear that love is winning in our community. We look forward to becoming a stronger tourism draw and a beacon of acceptance in the Peace Country."