Latitude 55: Blending World-Class Spirits With Local Support
In a time when supporting local businesses and organizations has become crucial, one distillery has gone above and beyond to ensure the wellbeing of our community. We caught up with the team at Latitude 55 to understand how they've navigated these uncertain times (and have managed to help others do the same).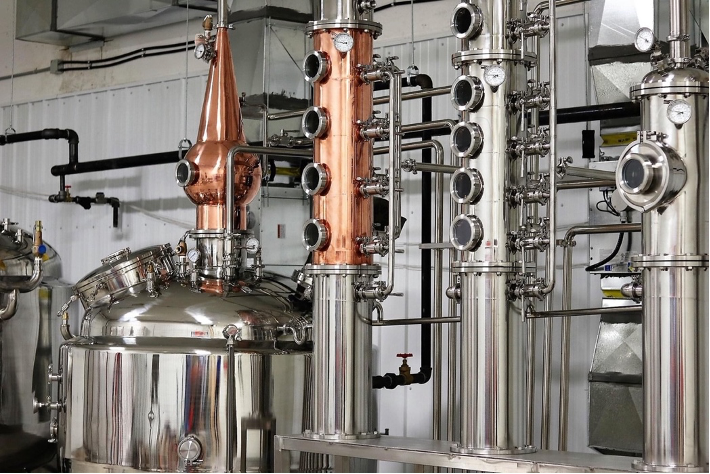 GPRTA: Tell us a bit about the background of your company and your products.
Nick Kebalo: I was the head distiller for Diageo's Crown Royal distillery in Winnipeg before moving to Grande Prairie in 2015. I met one of my Latitude 55 partners, Dennis Warren, through community events and our children's sports. He then introduced me to our other partners, Matt Scheck, Kevin Szakacs, and Eric Miller. At the time, there were no distilleries in Grande Prairie, so the group convinced me to start the first. Latitude 55 was born, and began producing spirits in December of 2018.
Our portfolio currently includes a line of unaged ryes, including our Moonshine, Apple Rye, and Spiced Rye, as well as our Vodka and Gin. The newest addition to our product line is our Kakwa Rum, which pays homage to the Kakwa Falls (thanks to the label artwork created by local northern artist Robbie Craig). To me, the Kakwa Rum really encompasses what Latitude 55 is all about: partnerships within our community to highlight a regional treasure like Kakwa Falls.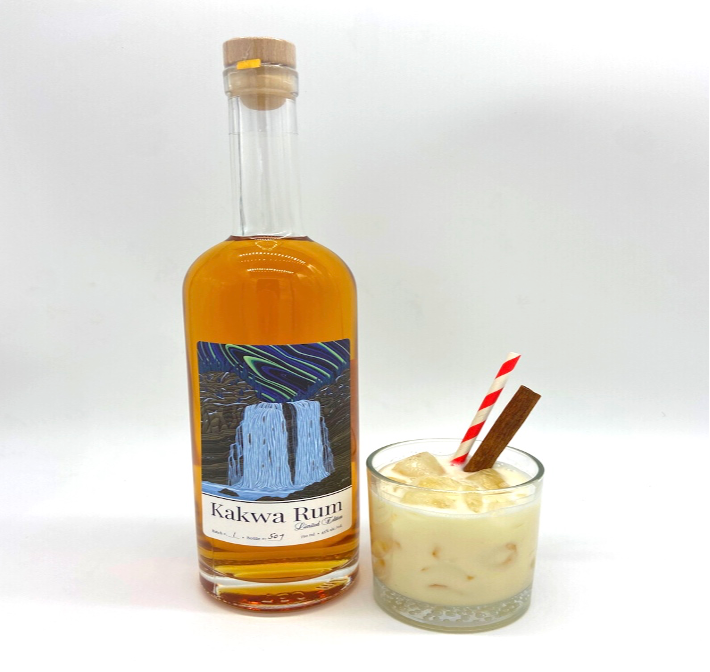 GPRTA: How do you feel you contribute to tourism in the region and how can visitors and locals alike experience Latitude 55?
Nick: Latitude 55 is a unique stop for people visiting Grande Prairie, and it's been a pleasure meeting people from all over the world who stop in to try our spirits. It helps that we offer free samples as well! Once we get past these COVID-19 restrictions, we plan to start-up our tours again so people can see how we make our world-class spirits in person.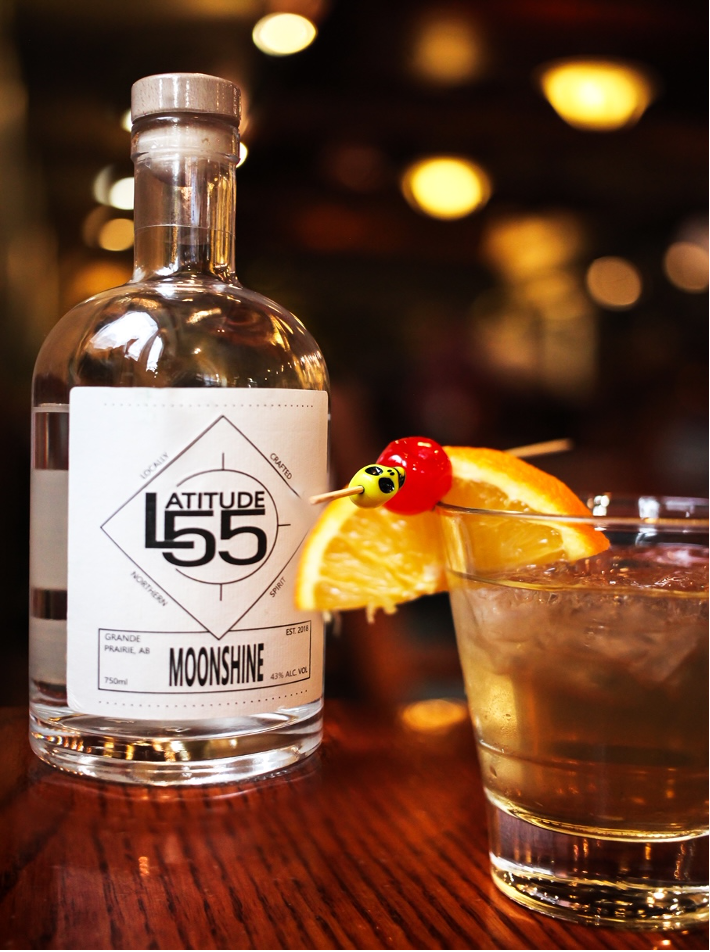 GPRTA: On that note, how did COVID-19 initially affect your business, and what were some ways you overcame that?
Nick: We were in a unique position to directly help our local community by producing hand sanitizer. We understood very quickly that there was a huge demand for sanitizer in the region, so we got permission from the federal government to start production. The sanitizer really allowed us to help our community in many ways. First, we were able to support local businesses by quickly giving them a sanitizer option (many of whom had none at the time). Then we offered the sanitizer to people within our community for a small donation. From this initiative, we were able to raise $10,000 and we donated 100% of the proceeds to the Community Foundation of Northwest Alberta.
Honestly, this was our proudest achievement as a business this year. Being good community members is one of our core beliefs and this was an opportunity for us to show up for others.
GPRTA: With new and more strict restrictions in place yet again, how do you suggest the community best supports local businesses during this time?
Nick: People need to think about what happens after we overcome COVID-19. Do they want to be able to go out to local restaurants and bars? If so, we all need to support these establishments now or they might not be here when this is all over! Order take out for sure, but really think about making local establishments like Better Than Fred's, the Crown and Anchor, or Madhatter's your first choice.
GPRTA: What are some ways that you've seen businesses actually support each other?
Nick: In Grande Prairie, businesses really care about each other. I can tell you from experience that when Latitude 55 needs supplies and the like, we look to local first. For example, the ingredients for our sanitizer were all purchased from local suppliers. I can see that most Grande Prairie businesses turn to each other first – we look out for each other, and that's more important now than ever.
GPRTA: What are some of your other favourite small or local businesses in the Grande Prairie region that our audience should check out?
Nick:
1) D.LUXE Boutique – My wife loves this store. They offer women's clothing and jewelry. They have a fantastic supply of Hillberg and Berk as well.
2) Parsons Printing – We use Parsons for all of our promotional material and personalized labels. They offer great service and are very responsive.
3) Grant Berg Gallery – Grant introduced Latitude 55 to Robbie Craig, who painted our Kakwa Rum label. Robbie is currently working on another label for us and we are always excited when he comes to town to support Grant's gallery!
GPRTA: In general, what do you love about the Grande Prairie region and what do you find unique about it?
Nick: Grande Prairie is a place where people can make an honest living and raise kids without worrying about some of the bad things that happen in larger communities. People are genuinely open to helping each other out. We love being a small part of that.
GPRTA: Can you share a fun holiday Latitude 55 recipe for our readers?
Nick: Try this one!
Ingredients:
1 1/2 oz Kakwa Rum
1/4 oz Amaretto
4 oz egg nog
Method:
Fill shaker with ice. Add Kakwa Rum, Amaretto, and egg nog. Shake. Pour over ice. Add cinnamon stick for garnish.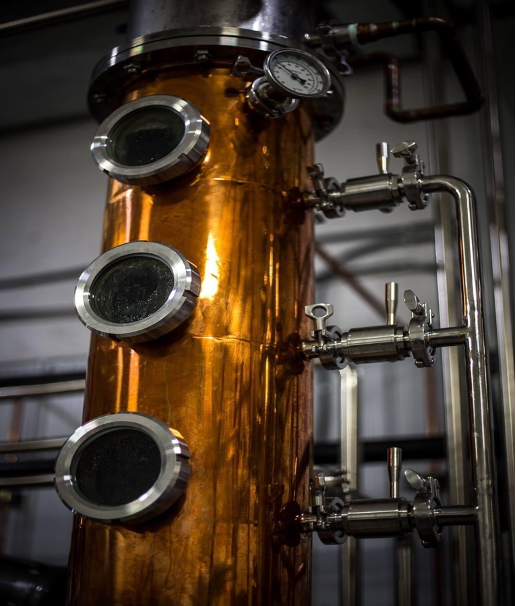 Thank you to Nick and the Latitude 55 team for sharing their passion for great spirits and the importance of community with us. To learn more about them, visit their website here, or follow them on Facebook and Instagram!