Open Road Adventures
You love sleeping in the great outdoors but don't have a camper, trailer or motorhome and setting up a tent is a chore.
Open Road Adventures, Inc. has you covered – glamping!
One of the newest Grande Prairie Regional Tourism Association members, the company provides set up and take down of varying sizes of durable bell tents at three area campgrounds. Amenities include beds, linen, solar lights, chairs, a butane cook stove, area rugs, and décor.
The Indigenously owned company, operated by Leona Small and Lenore Tochor, has partnered with Saskatoon Island Provincial Park, Evergreen Park and Nitehawk Year-Round Adventure Park to offer its service and packages. Check out www.openroadadventures.ca for full details.
Open Road launched in April 2022.
Tents range from 8' to 13'. Up to five bookings can be made over a weekend and may include special events such as weddings.
The idea behind a glamping service arose from Small's personal experience.
"When I used to camp with my older son, I always wished for and wanted a service that would set up my camp and take it all down for me," she says. "That way, I could have more time to spend with him.
"Let's face it, camping can be stressful, especially if you're single and have to do everything yourself. It's nice to be able to show up at your camping spot and just enjoy the time out there without being concerned with packing, buying all the equipment, setting up and taking everything down afterwards.
"Our goal is for you to enjoy your stay by getting the most out of your time at the glamping spot of your choice."
Tipis are included in the offerings at Evergreen Park, reflecting the Indigenous heritages of Small and Tochor.
Small is a member of the Aseniwuche Winewak Nation (Grande Cache) and her roots are with the Woodland Cree First Nation. Tochor is Inuit and grew up in Grande Prairie.
Open Road has received Original Original accreditation from the Indigenous Tourism Association of Canada.
It has received a warm reception, Small says.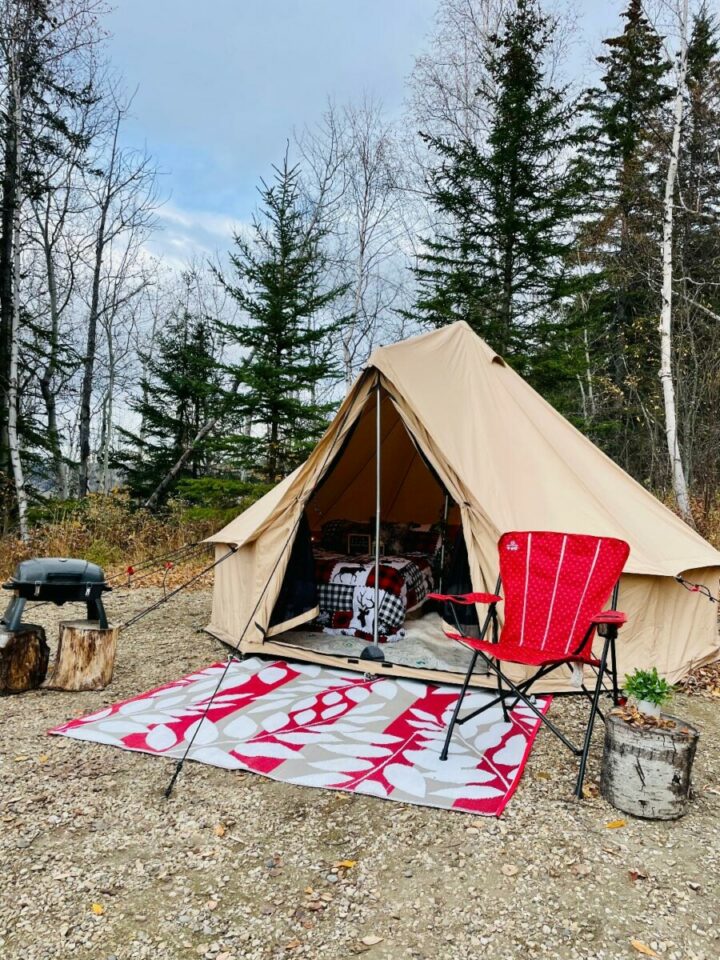 "Everyone that we have spoken with has said the same thing, 'What a wonderful idea!'"
Enquires have ranged from people wanting to get away without having to pack everything needed to go camping to individuals planning family gatherings.
Small is looking forward to the opportunity to network and get the word out through the GPRTA. She appreciates the support from staff.
The three partner campgrounds provide unique experiences, says Small.
"Nitehawk, for example, offers bike and hiking trials. They also have a little lunch area where you can order food and enjoy a beverage on their deck. You can hike or drive down to the river.
"Evergreen Park is the only place where we offer a tipi for a glamping experience so far. We also will have a bell tent there. The park offers live horse races in the summer, a restaurant, casino, Stompede, walking trails, gun range, and a lot of other activities you can stay busy doing. Saskatoon Island offers walking trails and bird watching.
Open Road looks forward to expanding beyond its current partners and offering other types of accommodation. They are eying winter glamping at Nitehawk this coming winter.
"We want to be able to offer a unique way of camping and make it so it is enjoyable for the guests," says Small.