Camping in the Grande Prairie Region
The Ultimate Guide to Escaping the City and Making Unforgettable Memories
Camping in the Grande Prairie Region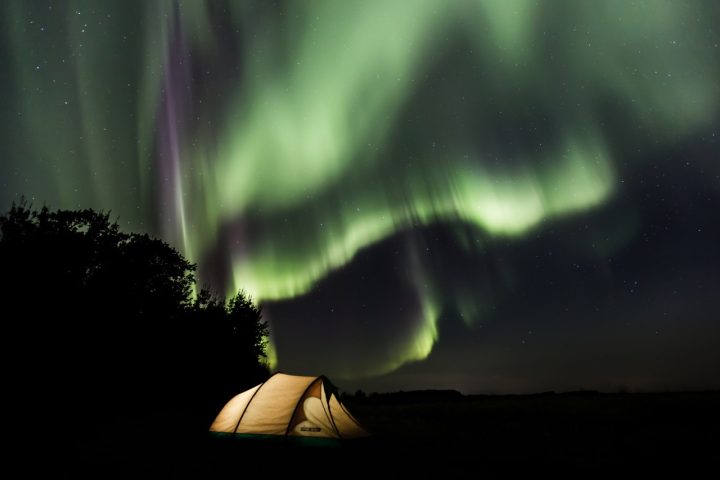 Camping is one of the universal Canadian experiences. The untapped nature of the Peace Country is the perfect place to escape the city for a couple of nights, offering stunning landscapes, hiking trails, lakes, dunes, and rolling hills. Better yet, sleeping under darker skies means greater chances of seeing the Northern Lights!
Whatever style of camping you're after – from Bear Grylls survival ops, to ribeyes and air con in a luxury RV – the Grande Prairie region has an unforgettable adventure for you. Most campgrounds open for the season every year on May 1st, so here are our top tips for the best sites for every type of camper.
Best Campsites for RVers
An RV gives you camping, but with maximum comfort. Make mud and insect bites a thing of the past with these serviced sites.
• Camp Tamarack RV Park
Paved walkways. Free firewood. Free Wi-Fi. Plenty of space for even the largest of RVs. Camp Tamarack is a perfect Peace Country getaway, with nature all around (when/if you feel like indulging in it.)
• Grande Prairie Rotary Campground
Connected to the Muskoseepi Park system which runs right through the heart of Grande Prairie, Grande Prairie Rotary Campground enables you to take a short walk straight into the city to enjoy all the restaurants, shopping, and nightlife around, then stroll (or cab) right back out.
Other Things To Consider
We get it – you're eager to start setting up camp! But taking five minutes to explore all your options when it comes to camping in the Peace Country can make the difference between a trip to remember and a trip to forget.
Make sure you've packed everything you need. This handy MEC guide provides a list of how to prepare for the prairie climate and environment.
You followed the guide, but the kids got too excited and left something behind anyway? Trapper Gord just east of the city has all your outdoor needs.
Want to try a new activity but without the commitment of having to buy? There are plenty of places to rent sports equipment and off-road vehicles around Grande Prairie.
Ready, Set, Go!
OK, that's it, you've got everything you need to know to head out camping. Good luck, and get out there! Of course, if the weather turns, or if you feel like exploring one of northern Alberta's fastest-growing urban centers, there are plenty of hotels waiting for you in Grande Prairie.
Whatever you decide to do, don't forget to hit us up at #GPTourism on social media. We love seeing people discovering our region photo by photo!