The Best Water Sports in the Peace Country
The Best Water Sports in the Peace Country
Unforgettable Summer Fun is Waiting
If you're a regular to our blogs, you'll know we love to talk about how many great things there are to do in the Grande Prairie region in summer. But today, we're focusing on the many fantastic water adventures waiting for you and your family in the Peace Country. From peaceful days kayaking, canoeing, or paddleboarding on beautiful rivers and lakes, to more exciting white-knuckle water sports like white water rafting or jet boat races, there's plenty of water activities out there.
Don't have the right equipment? Don't worry! There are plenty of friendly and knowledgeable rental companies who will be able to kit you out in safe, modern gear for a great price.
Where to Kayak or Canoe
Smoky River – A classic Western Canadian experience, the Smoky is a river that runs near Grande Cache and other parts of our region, offering great views of wildlife and nature.
Peace River – The Peace River is one of the largest rivers in northwestern Canada and is the only river to pass all the way through the Rockies. It is large and fast-moving, but it has a Class I rating, meaning there are no rapids!
Athabasca River – For those seeking more of a challenge, the mighty Athabasca River lies just to the south of the Grande Prairie region. There are plenty of exhilarating rapids, but be sure to hire a local guide if it's your first time.
Grande Cache Lake – Grande Cache Lake is a lake in the Municipal District of Greenview, easily accessible and small enough you can explore it all in a day. Bring a rod – you might just snag a trout!
Where to Paddleboard
Bear Lake – Bear Lake is very close to Grande Prairie and has a campground where you can spend the night. At four miles wide and six miles long, it's ideal for peaceful paddleboarding,
Muskoseepi Park – Muskoseepi Park runs the length of Grande Prairie from north to south, and there are multiple places to go paddleboarding. Bear Creek Reservoir in the north is very popular.
Spring Lake – Spring Lake is near Beaverlodge, a hidden gem with an overnight campground. What could be better than seeing the sun rise over calm waters from your paddleboard?
Victor Lake – The 'little sister' of Grande Cache Lake, Victor Lake lies just east of Grande Cache, and offers access to the same beautiful boreal landscapes.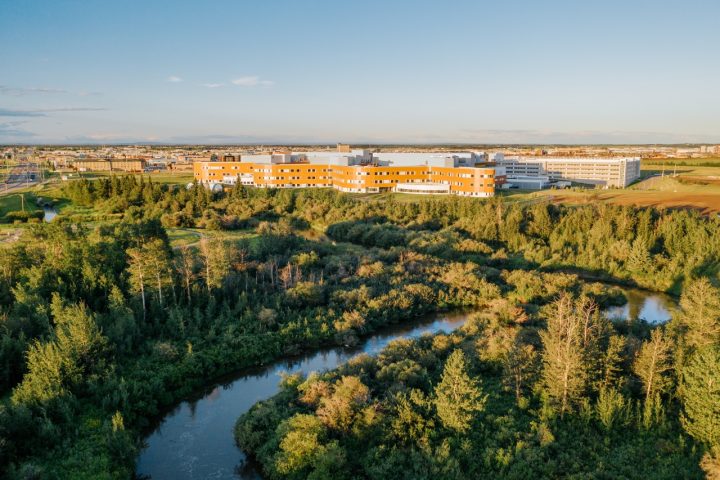 Where to Float
Wapiti River – Our friends at the Philip J. Currie Dinosaur Museum offer the unique experience of a prehistoric tour down the Wapiti River, where an expert guide will explain the geological history of our region before giving you the chance to dig for fossils. Locals sometimes like to self-float down towards O'Brien Park, but be sure to check water levels and bring all appropriate safety gear – the Wapiti, like all rivers, has strong currents and other hazards to mind.
Simonette River Provincial Recreation Area – The Simonette River is a tributary of the Smoky River located west of Grande Prairie, and when conditions are right, it's a fantastic place to spend a lazy afternoon basking in the sun on a float. Again, take the appropriate river safety precautions.
Where to Go White Water Rafting
Sulphur River Canyon – A spectacular journey down a majestic canyon with enough rough water to satisfy any thrill seeker without intimidating first-timers, our friends at Wild Blue Yonder can take you on an adventure you won't soon forget.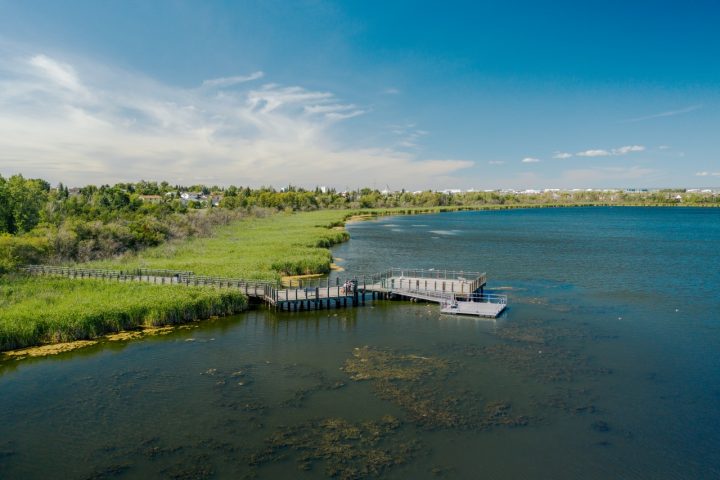 Where to Go Boating
Wapiti River – Every summer, Grande Prairie's own jet boat racing club, the Wapiti River Race Club, hosts the FluidPRO 200 jet boat race, a fun and free event where competitors aim to hurtle down the Wapiti River as fast as possible.
Musreau Lake – About an 80km drive south of Grande Prairie, Musreau Lake Provincial Recreation Area allows all types of power boating outside of the beach area.
Moonshine Lake – An hour north of Grande Prairie, located in Saddle Hills, Moonshine Lake has a large campground with powered sites and sewage disposal, and a boat launch where you can explore the lake on an electric-powered vessel.
Make a Splash!
The best thing about the Peace Country? There are so many more adventures waiting. These suggestions for water activities are just the beginning – don't be afraid to start exploring! Wherever you're headed, please remember to wear appropriate safety gear, and if you're going solo, make sure someone knows where you're going and when you're due back. AND don't forget to bring a waterproof camera so you can share your photos on social media with us by using #GPTourism. We might just feature you on our feeds!