The Ultimate Guide To Escaping the City and Making Unforgettable Memories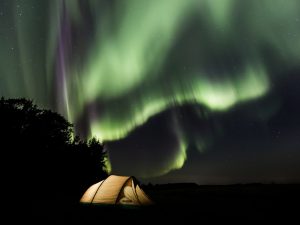 There's a lot of things to do in spring in the Grande Prairie region. One of the reasons we like camping so much is because it brings you closer to those things to do – and, well, you also get to go camping! The untapped nature of the Peace County is the perfect place to escape the city for a couple of nights, offering stunning landscapes, hiking trails, lakes, dunes, and rolling hills. Better yet, sleeping under darker skies means greater chances of seeing the Northern Lights.
Whatever style of camping you're after – from Bear Grylls survival ops, to ribeyes and Wi-Fi in a luxury RV – the Grande Prairie region has an unforgettable adventure for you. Most campgrounds are open for the season on May 1st, so here are our top tips for the best sites for every type of camper.
Best Campsites for Tenters
As they say: if it ain't broke, don't fix it. If you're in the mood for some classic camping – that is, you, a tent, and a fire underneath the stars – these spots are ready and waiting.
Evergreen Park Campground
Top of the list is our best all-rounder, Evergreen Park. Close enough to Grande Prairie to offer the comforts of the city, with power, water, laundry, and a convenience store on-site, enjoy peaceful nights and long days under the pine trees.
Ole's Lake Campground
A little further afield, Ole's Lake is the perfect spot to get out on the water. Launch a canoe, cast a line, or work on your tan on the beach, while the more adventurous can hit the many hiking trails and mountain bike paths nearby.
Other Highlights
Best Campsites for RV'ers
View this post on Instagram
Camping doesn't have to mean mud, splinters, and insect bites. Whether you just are needing a serviced site and a hot shower, or consider yourself a full-blown glamper, check out these sites for maximum comfort and amenities.
Camp Tamarack RV Park
Paved walkways. Free firewood. Free Wi-Fi. Plenty of space for even the largest of RVs. Camp Tamarack is a perfect Peace Country getaway, with nature all around (that is, whenever you feel like indulging in it.)
Grande Prairie Rotary Campground
Connected to the Muskoseepi Park system which runs right through the heart of Grande Prairie, Grande Prairie Rotary Campground enables you to take a short walk straight into the city to enjoy all the restaurants, shopping, and nightlife around, then stroll (or cab) right back out to starry skies.
Country Roads RV Park
To our knowledge, John Denver never visited Country Roads RV Park, so the chances of his hit song being written about it are slim – but if he had visited, he'd certainly have penned a verse or two about these fully-serviced sites on the road to Alaska, which offer a 10-acre corn maze in August and a pumpkin patch in the fall, plus private chauffeur service into the city (at an additional fee).
Other Highlights
Best Campsites for Golfers
View this post on Instagram
What's better than eggs and bacon for breakfast and then heading out onto the fairway in the rising sun? (That's a rhetorical question, of course). Northern Alberta offers some of the best (and quietest!) golfing in the province.
Bear Paw Par 3 Golf Course & RV Park
Bear Paw is a shortened 9-hole course that is perfect for golfers of all ages and skill levels. If you don't feel like lugging your clubs around (or you've got no space in your vehicle), their rental shop provides a wide range of equipment.
River Stone Golf Course
On the banks of the gorgeous Smoky River sits River Stone, a 9-hole course with one of the longest par 5 holes in Canada. After you're all done on the green, why not rent a boat and head out on the water?
Other Highlights
Feel like hitting up the fairway without staying the night? Check out our list of the must-visit golf courses in the Grande Prairie region.
Best Campsites for Active Campers
View this post on Instagram
If you prefer to think of your campsite as a base of operations while you head out kayaking, biking, or hiking (PS: here's our tips for the best hiking trails!) then these activity-oriented sites offer exactly what you're looking for.
Nitehawk Adventure Park
Want to make a splash? Combine mountain biking with watersports by taking your bike straight off Nitehawk's freestyle water ramp. If you'd rather stay on terra firma solid ground, there are plenty of hiking and biking trails, with 46 fully serviced and 33 power-only sites to come back to in the evening.
Moberly Flats Campground
Located in Two Lakes Provincial Park on the banks of the South Lake, Moberly Flats offers fantastic fishing for pike, perch, and trout. Surrounding the lake are the foothills of the Rocky Mountains, filled with wildlife and scenery waiting to be explored. There are 30 unserviced sites, most of which back onto the lake itself.
Other Highlights
Other Things To Consider
We get it-you're eager to start setting up camp! But taking five minutes to explore all your options when it comes to camping in the Peace Country can make the difference between a trip to remember and a trip to forget.
Make sure you've packed everything you need. This handy MEC guide provides a list of how to prepare for the prairie climate and environment.
You followed the guide, but the kids got too excited and left something behind anyway? Trapper Gord has all your outdoor needs.
Wanting to try a new activity but without the commitment of having to buy? There are plenty of places to rent sports equipment and off-road vehicles around Grande Prairie.
S'mores are great, but you can't eat them for every meal (so the doctors say anyway…). Thankfully our region offers a fantastic range of summer dining experiences to give a little (delicious) balance to your diet.
Ready, Set, Go!
OK, that's it, you've got everything you need to know to head out camping. Good luck, and get out there! Of course, if the weather turns, or if you feel like exploring one of northern Alberta's fastest-growing urban centres, there are plenty of hotels waiting for you in Grande Prairie. Whatever you decide to do, don't forget to hit us up at #GPTourism on social media. We love seeing people discovering our region photo by photo!